Hermanus Tour Accommodations
Hermanus is situated in the heart of the Whale Route, just 100km from Cape Town on the Cape Whale coast. It has developed from a rustic fishing village into one of the world's best whale-viewing sites. With its unparalleled scenic beauty, modern infrastructure, upmarket shops and endless adventure options, it's little wonder that Hermanus has grown in size and popularity during the last decade.

Below is a listing of Hermanus hotels in South Africa. To view complete details on the accommodation, click on "Read More+" under each hotel photo.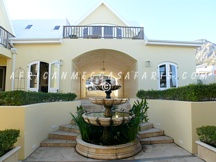 Read More +
BIRKENHEAD HOUSE
Hotel Tier 1 Experience
Birkenhead House is perched high on the Hermanus cliffs overlooking the whale watching paradise of Walker Bay. Accommodating guests in the utmost luxury, this is the perfect destination for those seeking the pinnacle of seaside living. Only an hour and a half from Cape Town, Birkenhead House & Villa are superbly located in unspoilt natural surroundings.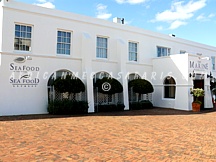 Read More +
MARINE HERMANUS HOTEL
Hotel Tier 1 Experience
Marine Hermanus Hotel has one of the southern hemisphere's most spectacular seascapes. The hotel has 42 individually decorated bedrooms and suites, each with its own private facilities. Commanding views extend across Walker Bay or over the beautiful internal courtyard, finely manicured gardens and the Overberg Mountains.
Read More +
OCEAN ELEVEN GUEST HOUSE
Hotel Tier 3 Experience
Ocean Eleven Guest House is situated on the Cape South coast of South Africa, in the quaint coastal town of Hermanus on Walker Bay. Although the Hermanus village is small, it has a city-like infrastructure and, having been a popular coastal holiday destination for over a hundred years, there are a myriad of things to see and do.
AFRICANMECCA REVIEWS
What are our Customers saying about our safari vacations?
We just returned from our trip to Africa. We had a group of 10 people, going to 4 different countries. It was an absolutely perfect trip, not one thing went wrong. Raza had put together the most time efficient trip for us taking into consideration every possible thing someone can. These people know what they are doing! Every single aspect of the planning was perfect. Thank you very much.

Pappu Patel & Group - Chicago, Illinois, United States

AfricanMecca Safaris assisted my wife and I on planning a wonderful three week trip to Kenya and Capetown, South Africa. They took care of all the reservations. The scheduling was wonderful, and they arranged for someone to meet us every step of the vacation to insure that we made the proper connections and had transport waiting to take us where we needed to go. My heartfelt thanks.

Jack Hart - President, Hart Financial Services - Florida, United States

AfricanMecca Safaris created a remarkable honeymoon tailored to our interests and desires. The quality of service and delivery of experience was unsurpassed. Additionally, they quickly responded to every question we had and went the extra mile to make sure we were always happy with the outcomes. I highly recommend AfricanMecca Safaris to honeymooners, families, or any traveler.

Noorin & Jason Nelson - Maryland, United States

I had a wonderful trip to Africa and I would highly recommend your company.I have been to Africa many times and I have never had such wonderful service. The guide and safari vehicle were both great and all the lodges were outstanding. We will be going to Africa again the year after next and I assure you I will be contacting you. Thanks again for arranging such a great trip.

Ronald Price, President, Ron Price Motors Group - California, United States

Jambo Raza: Where do we even begin.............. Sal and I had the most amazing experience of our lives. I can only tell you that you have accomplished your goal of sharing your love of your beautiful country with us. Thank you for making my dream trip to Africa the memory of a lifetime. I look forward to continuing our friendship and sharing photos one day (although I promise not all 3,0000...........)

Karin Parker and Sal Adornato - New Jersey, United States

Thank you for everything; we had an amazing honeymoon. Words really can't describe our experience, all we can really say was that it was the most amazing experience of our lives and we would recommend AfricanMecca to anyone. We hope to visit Africa again sometime next year! Thank you & all of your staff for an amazing & perfect honeymoon.

Rick Sagoo - London, United Kingdom