Durban Tour Accommodations
Durban is South Africa's most popular domestic holiday city and it's easy to see why. It has miles of soft, sandy swimming beaches, great surfing and warm weather all year round. There's everything from B&Bs to world-class hotels, and you'll never run out of fun things to do. Head to the ocean for a fishing charter or chill out on a sunset sundowner cruise.

Below is a listing of Durban hotels in South Africa. To view complete details on the accommodation, click on "Read More+" under each hotel photo.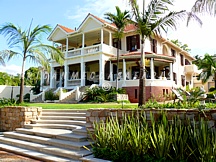 Read More +
AUDACIA MANOR
Hotel Tier 2 Experience
Audacia Manor, built in 1928, is a beautifully restored Colonial Mansion situated on the slopes of Durban's Berea overlooking the city and the Indian Ocean; mere minutes away from the city center and the famed 'Golden Mile'. Spacious individually decorated rooms offer luxury and style with king sized beds and fully appointed bathrooms with separate showers.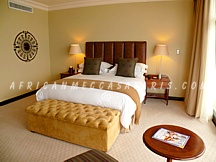 Read More +
BEVERLY HILLS HOTEL
Hotel Tier 2 Experience
Beverly Hills Hotel languishes between the sun-burned blond beach and the warm waters of the south western Indian Ocean is Umhlanga Rocks, one of South Africa's premier coastal locations, a mere twenty minutes drive from Durban. With miles of glorious golden beaches and near perfect subtropical weather, this idyllic playground attracts visitors from around the globe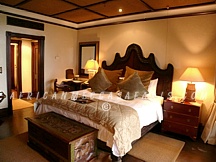 Read More +
FAIRMONT ZIMBALI
Hotel Tier 1 Experience
Fairmont Zimbali is located on KwaZulu-Natal's Dolphin Coast, under an abundant forest canopy. A sanctuary unlike any other in South Africa, this charming and unspoiled region is a nature lover's wonderland. Dappled shadows from the lush vegetation and cool breezes from the Indian Ocean leave their mark on your soul.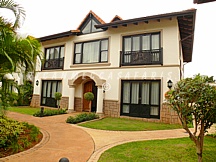 Read More +
HOTEL IZULU
Hotel Tier 2 Experience
Hotel Izulu boasts of 19 luxurious suites within a contemporary blend of Tuscan architecture, African features and Balinese influences. Different styles of architecture form a convivial mix, and are most often described as "an African heart with an eastern spirit". Five luxurious freestanding villas are spread out in manicured grounds and each villa offers Executive Suites, Deluxe Suites, a private courtyard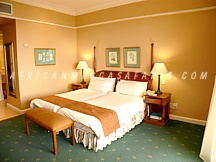 Read More +
PROTEA HOTEL EDWARD
Hotel Tier 3 Experience
Protea Hotel Edward is situated on Durban's famous Golden Mile, within five minutes of the city center, the Durban, heralding a time of Victorian elegance. This world famous hotel has played host to Princes and Presidents, Field Marshals, millionaires and movie stars since 1911. Whether you are traveling for business or leisure purposes, the Protea Hotel Edward (Durban) is well placed within the Durban golden triangle.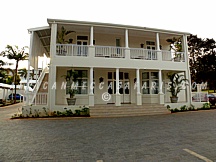 Read More +
QUARTERS ON AVONDALE
Hotel Tier 3 Experience
Quarters on Avondale is set in the tradition of the original Quarters on Florida which was restored to its Victorian splendor offering quiet luxury in an 'Edwardian' setting. The original Edwardian era home has been beautifully restored to its former glory to mirror the original architecture. The main Quarters on Avondale building, a double story, comprises a reception area, a guest lounge and 10 en-suite bedrooms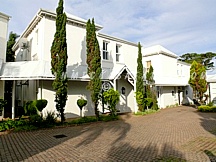 Read More +
QUARTERS ON FLORIDA
Hotel Tier 3 Experience
Quarters on Florida offers four gracious Victorian homes that have been beautifully restored by award winning architects to create a unique hotel of immense charm and character. Inside you will find a subtle combination of modern sophistication and old-fashioned warmth reflected in everything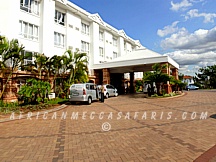 Read More +
RIVERSIDE HOTEL & SPA
Hotel Tier 3 Experience
Riverside Hotel & Spa is just outside the city center, set high on the banks of the Umgeni River Mouth. It offers a place where sheer quality and excellent service is all part of the deal. Stunning river views and abundant bird life on the Umgeni Estuary below the hotel, set the perfect scene for rest and relaxation.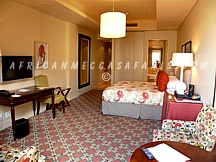 Read More +
ROYAL PALM GATEWAY
Hotel Tier 3 Experience
Royal Palm Gateway is an exciting property in Umhlanga offering luxury hotel apartments directly opposite the Gateway Theatre of Shopping on Palm Boulevard. It is situated just 20 minutes from Durban International Airport and in close proximity to the La Lucia Ridge office estates, the Umhlanga village and beachfront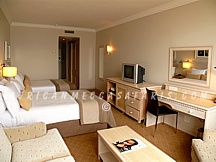 Read More +
SOUTHERN SUN ELANGENI
Hotel Tier 3 Experience
Southern Sun Elangeni is situated on Durban's North Beach with breathtaking views of Durban's Golden Mile and the warm Indian Ocean. Business and leisure travelers will enjoy fine service and hospitality at one of Durban's deluxe hotels. The hotel also has three superb cosmopolitan restaurants which provide a choice of cuisine from authentic Japanese to ethnic Indian.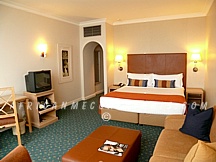 Read More +
SOUTHERN SUN NORTH BEACH
Hotel Tier 3 Experience
Southern Sun North Beach hotel is a perfect family hotel located on Durban's scenic Golden Mile opposite the world-renowned surfers' paradise, North Beach. At the Southern Sun North Beach hotel you're just a few steps from the beach, and a short stroll or drive from the central business district and the International Convention Center.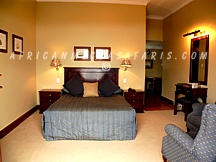 Read More +
THE BOATHOUSE
Hotel Tier 3 Experience
The Boathouse Hotel is 50 km north of Durban in South Africa. With large private balconies to soak up the African sun, great beach front location, fine dining restaurant, cigar bar, library and cocktails at the Pool overlooking the Indian Ocean. As the sun rises over the East Coast of Southern Africa, its rays reflecting off the Indian Ocean and touching on the golden beaches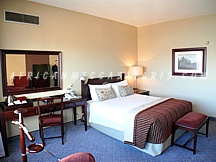 Read More +
THE ROYAL HOTEL
Hotel Tier 3 Experience
The Royal Hotel principle of uncompromising service and unfailing hospitality has always been a cornerstone in it's 150 years of existence. At The Royal Hotel we believe that the real ingredient of lasting hotel excellence cannot be bought. This is because it is service that makes the difference and high standards first have to be cultivated and then continuously refined. It is this commitment that has made us one of the foremost hotels in the world.
AFRICANMECCA REVIEWS
What are our Customers saying about our safari vacations?
We just returned from our trip to Africa. We had a group of 10 people, going to 4 different countries. It was an absolutely perfect trip, not one thing went wrong. Raza had put together the most time efficient trip for us taking into consideration every possible thing someone can. These people know what they are doing! Every single aspect of the planning was perfect. Thank you very much.

Pappu Patel & Group - Chicago, Illinois, United States

AfricanMecca Safaris assisted my wife and I on planning a wonderful three week trip to Kenya and Capetown, South Africa. They took care of all the reservations. The scheduling was wonderful, and they arranged for someone to meet us every step of the vacation to insure that we made the proper connections and had transport waiting to take us where we needed to go. My heartfelt thanks.

Jack Hart - President, Hart Financial Services - Florida, United States

AfricanMecca Safaris created a remarkable honeymoon tailored to our interests and desires. The quality of service and delivery of experience was unsurpassed. Additionally, they quickly responded to every question we had and went the extra mile to make sure we were always happy with the outcomes. I highly recommend AfricanMecca Safaris to honeymooners, families, or any traveler.

Noorin & Jason Nelson - Maryland, United States

I had a wonderful trip to Africa and I would highly recommend your company.I have been to Africa many times and I have never had such wonderful service. The guide and safari vehicle were both great and all the lodges were outstanding. We will be going to Africa again the year after next and I assure you I will be contacting you. Thanks again for arranging such a great trip.

Ronald Price, President, Ron Price Motors Group - California, United States

Jambo Raza: Where do we even begin.............. Sal and I had the most amazing experience of our lives. I can only tell you that you have accomplished your goal of sharing your love of your beautiful country with us. Thank you for making my dream trip to Africa the memory of a lifetime. I look forward to continuing our friendship and sharing photos one day (although I promise not all 3,0000...........)

Karin Parker and Sal Adornato - New Jersey, United States

Thank you for everything; we had an amazing honeymoon. Words really can't describe our experience, all we can really say was that it was the most amazing experience of our lives and we would recommend AfricanMecca to anyone. We hope to visit Africa again sometime next year! Thank you & all of your staff for an amazing & perfect honeymoon.

Rick Sagoo - London, United Kingdom