Introduction To Kwandwe Game Reserve
Situated at the heart of the malaria-free Eastern Cape, Kwandwe Private Game Reserve is within easy reach of South Africa's spectacular coastline and provides the perfect beginning or ending to a journey along the famed Garden Route.
Kwandwe Game Reserve Overview
The wide open spaces and tranquil scenery belie the area's turbulent history, and relics of the area's rich historical and cultural legacy can be found both on the reserve and nearby. Kwandwe Game Reserve itself consists of 22 000 hectares (54 400 acres) of a hauntingly beautiful but previously neglected part of the African continent where the area's natural wildlife has been painstakingly restored. A conservation victory, Kwandwe Game Reserve is home to thousands of animals, including lion, black and white rhino, buffalo, elephant and cheetah, as well as Africa's famous Big Five. Meaning "Place of the Blue Crane" in Xhosa, Kwandwe Game Reserve is a haven for a population of these rare, highly endangered birds (South Africa's national bird). The Reserve also provides sanctuary for other threatened species, such as the Knysna woodpecker, Cape grysbok, black wildebeest, crowned eagle and black-footed cat. A biological melting pot of various vegetation types, the Reserve boasts a spectacular display of winter flowering aloes from June to August. Kwandwe Game Reserve flanks both the north and south banks of the Great Fish River, which meanders for 30 km (19 miles) through this pristine, private wilderness. Kwandwe Game Reserve offers an exceptional safari experience in a region steeped in history and culture. The Great Fish River was a hotly contested border during the Frontier Wars of 1779 to 1878 between the Xhosa nation, Dutch farmers and the 1820 Settlers from England. Kwandwe Game Reserve's reception building is a Frontier War-era fortified homestead, and the Reserve boasts its own intimate chapel.
Wildlife Safari & Ecological Experience at Kwandwe Game Reserve
For the first time in over a hundred years, guests can witness lion, cheetah, elephant, black and white rhino, and buffalo wandering free in the valley thicket fringing the Fish River. Species such as kudu, grysbok, aardwolf, aardvark and caracal, which had always existed freely in the area, are now thriving in their natural habitat. In addition, Kwandwe Game Reserve, which means 'place of the blue crane' in Xhosa, has become home to a number of these highly endangered birds, as well as other threatened species, including black wildebeest and the crowned eagle. Even though 100 km from the coast, Kwandwe Game Reserve is still affected by the ocean, with south-facing slopes capturing moisture from the sea breezes resulting in denser or taller vegetation and gaily coloured lichens. In contrast, north-facing slopes tend to be drier and more open. The north-facing slopes feature extensive stands of aloe, which flower in striking profusion during the winter months. Forest-like thickets of tree euphorbia grow on steep, south-facing slopes. These spiny species are immune to destruction from most species thanks to the poisonous milky latex they exude. One exception to this rule is the black rhino, which relishes the spiny stems regardless of the toxin.

The Great Fish River meanders through Kwandwe Game Reserve, bisecting the reserve with 30 km of sweeping sandy bars and steep cliffs. The sand banks provide good clues for each game drive, as most of Kwandwe Game Reserve's species come down to the river to drink, leaving behind a jumble of tracks. The River has cut deep gorges through the surrounding rocks, providing the perfect habitat for wildlife, plant and bird species. Kwandwe Game Reserve's open habitat is characterised by sparse tussocks, creeping grasses and shrubs favoured by springbok, blue wildebeest and white rhino. Nocturnal species such as aardvark, aardwolf, bat-eared fax and porcupine can be viewed on night drives in this open terrain. Elephant were formerly widespread in the Eastern Cape and Kwandwe Game Reserve is the ideal habitat for this fascinating species. The old matriarchs make decisions as to where the herd will move or forage, sharing their experience of where the best areas are to feed at specific times of the year. The graceful kudu, with their majestic twisted horns, are one of the most abundant and conspicuous antelope at Kwandwe Game Reserve. Small family groups of females and bachelor herds of males can be encountered moving through their home ranges in search of food. Blue crane' bird, as mentioned earlier are highly endangered birds can be found on the the reserve. With a number of breeding pairs on the reserve, the fascinating dancing ritual performed prior to each mating season has been observed at Kwandwe Game Reserve. As Kwandwe Game Reserve is a private reserve, night drives are a daily feature and often result in unusual sightings. The reserve is famous for numerous sightings of the generally rarely spotted porcupine. Both the aardwolf and aardvark are frequently seen on night drives.
Kwandwe Camp & Lodge Accommodations In South Africa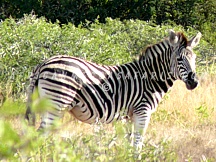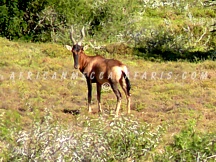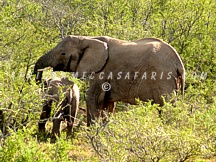 AFRICANMECCA REVIEWS
What are our Customers saying about our safari holidays?
On behalf of myself, my wife and my two adult daughters, I want to sincerely thank you and AfricanMecca Safaris for our fabulous recent safari. Everything you promised exceeded our expectations and was superb, which is saying a lot since this was our second trip, having had a wonderful Botswana Safari 10 years ago. Do not ever hesitate to use me as a reference.

Robert Schenkein - prVision Photography Studio - Colorado, United States

Chobe was delightful, less than half full. Sussi and Chuma, very nice, again only 13 people in all. All the game drives and river cruises were excellent. We had great weather. The ability to get really close is in inspiring. EVERYWHERE we went, the people were warm, helpful and charming. Thank you so much. We will be recommending your services to all.

Thomas Kelch - California, United States

Raza Visram at AfricanMecca planned the most amazing trip for my friend and I. I wanted to go to 4 countries in 15 days and he made it happen. It was an aggressive itinerary and Raza planned it so well, that the transitions were seamless. The last leg of the trip was Botswana for another Safari and we stayed at the most beautiful lodge. The excitement in seeing the animals so closely is indescribable.

Karin Alsdorf - New Jersey, United States

I had a wonderful trip to Africa and I would highly recommend your company.I have been to Africa many times and I have never had such wonderful service. The guide and safari vehicle were both great and all the lodges were outstanding. We will be going to Africa again the year after next and I assure you I will be contacting you. Thanks again for arranging such a great trip.

Ronald Price, President, Ron Price Motors Group - California, United States

Greetings to you and our most fervent thanks for a wonderful trip of Kenya, Zanzibar, South Africa & Victoria Falls. This was truly a perfect vacation. Thank you so much for all your arrangements. It was a trip filled with different kinds of adventures. We experienced and learned so much. Would highly recommend it to others who are interested in similar trips. Wishing you the very best.

Adrienne & Barrie Carter - Canada

Thank you for everything; we had an amazing honeymoon. Words really can't describe our experience, all we can really say was that it was the most amazing experience of our lives and we would recommend AfricanMecca to anyone. We hope to visit Africa again sometime next year! Thank you & all of your staff for an amazing & perfect honeymoon.

Rick Sagoo - London, United Kingdom
CONTACT AND TALK TO OUR SOUTH AFRICA TOUR EXPERTS TODAY TO START YOUR TRIP PLANNING PROCESS
Request South Africa Custom Or Tailor-Made Safari Vacation Pricing Based On Your Specific Travel Dates At Your Preferred Safari Tier Lodge Or Camp
CONTACT AN EXPERT ON SOUTH AFRICA SAFARI PRICES & TOURS