Introduction To Table Mountain National Park
Situated at the south-western tip of Africa, the Table Mountain National Park encompasses the incredibly scenic Table Mountain Chain stretching from Signal Hill in the north to Cape Point in the south and the seas and coastline of the peninsula. The narrow finger of land with its beautiful valleys, bays and beaches is surrounded by the waters of the Atlantic Ocean in the west and the warmer waters of False Bay and has within its boundaries two world-renowned landmarks - majestic Table Mountain and the legendary Cape of Good Hope. The Table Mountain National Park is recognized globally for its extraordinarily rich, diverse and unique fauna and flora - with rugged cliffs, steep slopes and sandy flats - is a truly remarkable natural, scenic, historical, cultural and recreational asset both locally and internationally. Nowhere else in the world does an area of such spectacular beauty and such rich bio-diversity exist almost entirely within a metropolitan area - the thriving and cosmopolitan city of Cape Town.
Table Mountain National Park Attractions
The Cape of Good Hope
So named by Portugal's King John II this area has captured the imagination of European sailors such as Dias who first named it the Cape of Storms in 1488 and later in 1580 Sir Francis Drake who called it the "The Fairest Cape in all the World". Rich in cultural and natural heritage this is one of the top tourist destinations in South Africa and includes the famous Cape Point. Due to the variety of wildlife that occurs here it is the only section of the Table Mountain National Park that is fenced and visitors should look out for Eland, Red Hartebeest, Bontebok and Zebra. Be sure to visit the Buffelsfontein Visitor Center that showcases all the plants and animals to look out for in a particular season and is full of informative signage. This is a haven for outdoor enthusiasts and offers hiking, surfing, angling, picnicking, beaching and cycling opportunities against the spectacular backdrop of the mountains and coastline of the most south western point in Africa. One of the major tourist attractions in the Table Mountain National Park is of course Cape Point which offers visitors a excellent viewing opportunities from the two lighthouses that adorn the point one still functional, informative interpretive signage that traces the cultural and natural history of the Point. The lighthouse is accessible by foot or you can catch the Flying Dutchman funicular to the top.

Boulders Penguin Colony Near Simon's Town
Just around the corner from the seaside village of Simons Town turn left off main road to Boulders Visitor Centro to visit the famous colony of African Penguins, so called for their hilarious braying call. This i s a truly special experience and Table Mountain National Park staff is knowledgeable and offer guided tours. After you have fallen in love with the penguins head to the secluded Boulders Beach and take a swim in the comparatively warm waters of the False Bay. This beach is ideal for kids as immense boulders shelter the cove from currents, wind and large waves - but please always take care a. Also, don't touch or feed the penguins. They might look cute and cuddly but their beaks are as sharp as razors and if they feel threatened they have no qualms about nipping the odd finger or nose.

Table Mountain
Arguably one of the most well-known mountains in Africa, Table Mountain provides a magnificent backdrop to cosmopolitan Cape Town. Famous for the tablecloth of clouds that pours endlessly down its slopes when the south-easter blows, this is a mountain of many moods and offers walkers and hikers a range of routes that vary from strolls to rigorous hikes. You decide whether you want to reach the summit and revel in spectacular views of the city or simply stroll along in the cool shade of indigenous forest which ever you choose you won't be disappointed. The ancient Afromontane forest has a fairy charm as vines and canopies create a magical atmosphere. However please remember that even though it is in an urban setting it is still a wild mountain that offers challenging climbs and sheer cliffs so be aware of where you intend to walk and always ensure that you stick to the path and are kitted out for cold weather, always carry water and let someone know where you are going to hike. If you want the views without breaking a sweat catch a state-of-the-art revolving cable car to the top.

Silvermine
Located in the central section of the Table Mountain National Park, Silvermine offers some of the best hikes in the Park with beautiful fynbos landscapes.

Signal Hill and Lion's Head Near Table Mountain
If you face Table Mountain and look right you will see Lion's Head and Signal Hill two popular destinations in their own right. Signal Hill is the Northern most tip of the terrestrial area of the Table Mountain National Park and offers excellent views of the Cape Town City and harbor. It is from here that the noon day gun marks 12:00 in Cape Town. Lion's Head is a short but popular hike that offers 360 degree views of the Atlantic seaboard, the City and Table Mountain. It has become a Cape Town tradition to hike to the top on full moon. But, while this is a memorable experience, it should only be done in groups, and led by someone with experience.

Beaches
Table Mountain National Park has a beach for all preferences. If you like to mingle with bronzed beach goers and enjoy a bit of a beach culture, try Llandudno on the Atlantic seaboard. However, if you are more of a laidback beach user head south and try out Noordhoek, Kommetjie or Scarborough - all of which are spacious enough to accommodate crowds and are also good for watching the sun set. The Cape of Good Hope section offers more wild and secluded beaches with the benefit of beaches on both the Atlantic and False Bay sides.
Table Mountain National Park Weather Pattern
Table Mountain National Park has what is known as a Mediterranean climate in that it typically has hot, dry summers and a short, wet winter which while cool are relatively mild with an all time low of only -1 degrees C. However in recent years climate change has resulted in dryer shorter winters. Strong winds feature prominently with a strong south Easter dominating summer months this wind has earned itself the nickname of the Cape Doctor as it blows pollutions from the city. In winter the winds generally switch to north east bringing a series of cold fronts over the peninsula. But don't be fooled the winter months bring some spectacularly clear, warm days that are in fact the best days for hiking. However, the mountainous topography of the Park creates micro-climates which means that different weather can be experienced by area within quite short distances. For example it can be a beautiful day in Cape Town but a short hike into the mountain chain can find misty, rainy weather.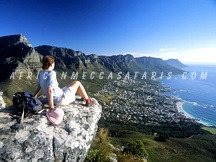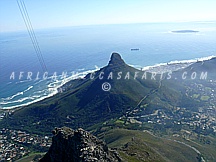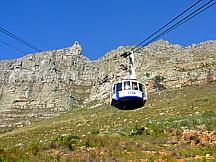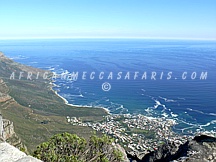 AFRICANMECCA REVIEWS
What are our Customers saying about our safari holidays?
On behalf of myself, my wife and my two adult daughters, I want to sincerely thank you and AfricanMecca Safaris for our fabulous recent safari. Everything you promised exceeded our expectations and was superb, which is saying a lot since this was our second trip, having had a wonderful Botswana Safari 10 years ago. Do not ever hesitate to use me as a reference.

Robert Schenkein - prVision Photography Studio - Colorado, United States

Chobe was delightful, less than half full. Sussi and Chuma, very nice, again only 13 people in all. All the game drives and river cruises were excellent. We had great weather. The ability to get really close is in inspiring. EVERYWHERE we went, the people were warm, helpful and charming. Thank you so much. We will be recommending your services to all.

Thomas Kelch - California, United States

Raza Visram at AfricanMecca planned the most amazing trip for my friend and I. I wanted to go to 4 countries in 15 days and he made it happen. It was an aggressive itinerary and Raza planned it so well, that the transitions were seamless. The last leg of the trip was Botswana for another Safari and we stayed at the most beautiful lodge. The excitement in seeing the animals so closely is indescribable.

Karin Alsdorf - New Jersey, United States

I had a wonderful trip to Africa and I would highly recommend your company.I have been to Africa many times and I have never had such wonderful service. The guide and safari vehicle were both great and all the lodges were outstanding. We will be going to Africa again the year after next and I assure you I will be contacting you. Thanks again for arranging such a great trip.

Ronald Price, President, Ron Price Motors Group - California, United States

Greetings to you and our most fervent thanks for a wonderful trip of Kenya, Zanzibar, South Africa & Victoria Falls. This was truly a perfect vacation. Thank you so much for all your arrangements. It was a trip filled with different kinds of adventures. We experienced and learned so much. Would highly recommend it to others who are interested in similar trips. Wishing you the very best.

Adrienne & Barrie Carter - Canada

Thank you for everything; we had an amazing honeymoon. Words really can't describe our experience, all we can really say was that it was the most amazing experience of our lives and we would recommend AfricanMecca to anyone. We hope to visit Africa again sometime next year! Thank you & all of your staff for an amazing & perfect honeymoon.

Rick Sagoo - London, United Kingdom
CONTACT AND TALK TO OUR SOUTH AFRICA TOUR EXPERTS TODAY TO START YOUR TRIP PLANNING PROCESS
Request South Africa Custom Or Tailor-Made Safari Vacation Pricing Based On Your Specific Travel Dates At Your Preferred Safari Tier Lodge Or Camp
CONTACT AN EXPERT ON SOUTH AFRICA SAFARI PRICES & TOURS