Introduction To Pilanesberg National Park
Pilanesberg National Park is in the Bojanala Region of the North West Province, adjacent to Sun City. Set in the crater of a long extinct volcano, the Park ranks among the largest of the parks in South Africa (it is in fact the fourth largest park) and covers an area of 55 000 hectare. The beauty of Pilanesberg is reflected in a large central lake, the Mankwe Dam. Over time, wind and water have carved a spectacular landscape with rocky outcrops, open grasslands, wooded valleys and thickets. Pilanesberg National Park accommodates virtually every mammal of southern Africa and is also home to the Big Five.
The Wildlife & Ecology Of Pilanesberg
Pilanesberg Wildlife:
An abundance of wild life proliferate in 580 km of diverse and arresting bushveld terrain. The park is home to healthy populations of lion, leopard, black and white rhino, elephant and buffalo - Africa's Big Five. A wide variety of rare and common species exist like the nocturnal brown hyaena, the fleet-footed cheetah, the majestic sable, as well as giraffe, zebra, hippo and crocodile, to mention but a few.

Pilanesberg Birdlife:
Bird watching is excellent with over 300 species recorded. Some are migrants, others permanent inhabitants; some eat carrion or live prey, others eat seeds, fruit or tiny water organisms. There is a self-guided trail in the Walking Area at Manyane complex in the east, which offers environmental education whilst enjoying game viewing and bird watching on foot. Also at Manyane is a walk-in aviary with over 80 species of indigenous birds. The crater of a long extinct volcano is the setting of Pilanesberg- a fascinating alkaline complex produced by volcanic eruptions some 1300 million years ago. Pilanesberg is one of the largest volcanic complexes of its kind in the world. Its rare rock types and structure make it a unique geological feature.

Pilanesberg Ecology:
The area is fringed by three concentric ridges or rings of hills - the formation rises from the surrounding plains like a bubble. The structure of the park is termed the "Pilanesberg National Park Alkaline Ring Complex". Ancient, even by geological time scales, this extinct volcano is the most perfect example of an alkaline ring complex. A nu mber of rare (but not necessarily economically important) minerals occur in the park. Pilanesberg National Park rates high amongst the world's outstanding geological phenomena. Pilanesberg has survived ages of erosion and stands high above the surrounding bushveld plains.

The early presence of man can be seen in the numerous Stone and Iron Age sites that are scattered throughout the park. The park exists within the transition zone between the dry Kalahari and wetter Lowveld vegetation, commonly referred to as "Bushveld". Unlike any other large park, unique overlaps of mammals, birds and vegetation occur because of this transition zone. Springbok, brown hyena, the red eyed bulbul, and camel thorn trees usually found in arid areas are found cohabitation with moist-area-limited impala, black eyed bulbul and Cape chestnut trees. The colourful hues, varied habitats and panoramas will delight and entertain photographers and visitors. The very topography makes the area a feast for the eye. Here are syenite koppies, thickly forested ravines, typical bushveld and also rolling grasslands and lightly wooded areas. Off the centrer of the park is Thabayadiotso, "the Proud Mountain". The Park ranks among the largest of the parks in South Africa and covers an area of 55000 hectares.
History Of Pilanesberg National Park
The history of Pilanesberg National Park is also unique amongst national parks in Africa. Pilanesberg National Park's special features of rugged landscape, well-watered valleys and attractive dwelling sites have made it a preferred site for human settlement for thousands of years. Prior to its proclamation as a reserve in 1979, the Pilanesberg National Park complex was degraded and depleted of indigenous game populations due to fairly intense settlement by commercial farmers. At considerable expense, the land has been restocked with game, the scars of human settlement were removed and tourism infrastructure was developed during the first 15 years (1979 and 1993). This constituted the largest and most expensive game stocking and land rehabilitation project ever undertaken in any African national park at the time. A 110 kilometer peripheral big game fence was erected over some very rugged terrain, 188 kilometer of visitor roads have been developed and more than 6000 head of game were introduced during the Operation Genesis game translocation program. Thus, while wildlife resources are rapidly declining in most developing countries in Africa, PNP is one of the few areas where this trend has been dramatically reversed. For this far-sighted action the North West Province (Previously Bop Parks) and its people have received worldwide acclaim and recognition. The challenge that lies ahead is to further develop and manage PNP in such a way that the conservation, cultural, recreational and economic benefits of this far-sighted action can be optimally utilized to the benefit of current and future generations.
Pilanesberg Camp & Lodge Accommodations In South Africa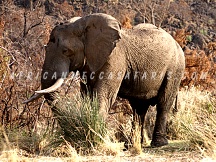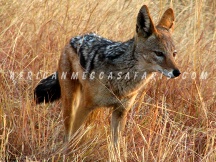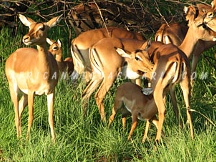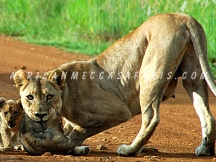 AFRICANMECCA REVIEWS
What are our Customers saying about our safari holidays?
On behalf of myself, my wife and my two adult daughters, I want to sincerely thank you and AfricanMecca Safaris for our fabulous recent safari. Everything you promised exceeded our expectations and was superb, which is saying a lot since this was our second trip, having had a wonderful Botswana Safari 10 years ago. Do not ever hesitate to use me as a reference.

Robert Schenkein - prVision Photography Studio - Colorado, United States

Chobe was delightful, less than half full. Sussi and Chuma, very nice, again only 13 people in all. All the game drives and river cruises were excellent. We had great weather. The ability to get really close is in inspiring. EVERYWHERE we went, the people were warm, helpful and charming. Thank you so much. We will be recommending your services to all.

Thomas Kelch - California, United States

Raza Visram at AfricanMecca planned the most amazing trip for my friend and I. I wanted to go to 4 countries in 15 days and he made it happen. It was an aggressive itinerary and Raza planned it so well, that the transitions were seamless. The last leg of the trip was Botswana for another Safari and we stayed at the most beautiful lodge. The excitement in seeing the animals so closely is indescribable.

Karin Alsdorf - New Jersey, United States

I had a wonderful trip to Africa and I would highly recommend your company.I have been to Africa many times and I have never had such wonderful service. The guide and safari vehicle were both great and all the lodges were outstanding. We will be going to Africa again the year after next and I assure you I will be contacting you. Thanks again for arranging such a great trip.

Ronald Price, President, Ron Price Motors Group - California, United States

Greetings to you and our most fervent thanks for a wonderful trip of Kenya, Zanzibar, South Africa & Victoria Falls. This was truly a perfect vacation. Thank you so much for all your arrangements. It was a trip filled with different kinds of adventures. We experienced and learned so much. Would highly recommend it to others who are interested in similar trips. Wishing you the very best.

Adrienne & Barrie Carter - Canada

Thank you for everything; we had an amazing honeymoon. Words really can't describe our experience, all we can really say was that it was the most amazing experience of our lives and we would recommend AfricanMecca to anyone. We hope to visit Africa again sometime next year! Thank you & all of your staff for an amazing & perfect honeymoon.

Rick Sagoo - London, United Kingdom
CONTACT AND TALK TO OUR SOUTH AFRICA TOUR EXPERTS TODAY TO START YOUR TRIP PLANNING PROCESS
Request South Africa Custom Or Tailor-Made Safari Vacation Pricing Based On Your Specific Travel Dates At Your Preferred Safari Tier Lodge Or Camp
CONTACT AN EXPERT ON SOUTH AFRICA SAFARI PRICES & TOURS