Sun City Tour Accommodations
Sun City theme park is a fantasy land where you have to cross a bridge of time, guarded by elephants, cross a roaring lagoon and play in a sacred river to enjoy the full effects of fun for the whole family. This internationally acclaimed resort will meet your whole family's every desire.

Below is a listing of Sun City hotels in South Africa. To view complete details on the accommodation, click on "Read More+" under each hotel photo.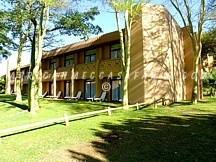 Read More +
CABANAS
Hotel Tier 3 Experience
Cabanas refreshing, laid back ambience at Sun City is the immediate impression one receives upon welcome. The most relaxed and casual of all the hotels at Sun City, the Cabanas offer informal yet comfortable accommodation. The reception area is spacious with a balconied foyer overlooking the Palm Terrace. Attractive planters placed around the tiled floor, and the lightly textured walls topped with a ceiling frieze of tropical foliage and flowers, all contribute to an immediate holiday feeling.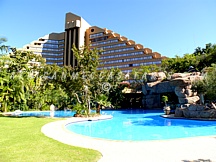 Read More +
CASCADES
Hotel Tier 3 Experience
Cascades 243 elegant air-conditioned rooms and suites enjoy spectacular views over the gardens to the golf course and bushveld hills beyond. In the luxury twin and luxury family rooms, the entire bathroom was reconstructed and enlarged. Gardens and lakes which cover the gently sloping hillside. They are laced with footpaths which wind between tens of thousands of exotic and indigenous trees and flowering plants. Lush gardens, tropical birds and water features give its unique and relaxing atmosphere.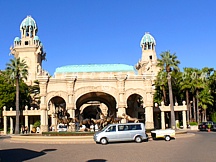 Read More +
THE PALACE OF LOST CITY
Hotel Tier 2 Experience
The Palace of Lost City is a modern day marvel that will make your journey, legendary. The Palace lavishes its guests with excellent service, and is luxurious in every detail. All four suites are breathtakingly opulent. From the distinctive grandeur of the African Suite to the unforgettable King Suite, resplendent in its maple paneling, delicately frescoed ceilings and stunning panoramas over the Lost City.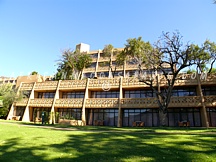 Read More +
SOHO (FORMERLY SUN CITY HOTEL)
Safari Tier 3 Experience
Soho is the hedonistic heart of the Sun City Resort. The ambience of the hotel, formerly known as Sun City Hotel, is one of glamour and sophistication. From the moment you enter the foyer your senses are assaulted by the bold design aspects and dramatic setting. The central area has been transformed into a jungle of lush foliage, cascading water and life-like boulders, encircling fast moving slot machines.
AFRICANMECCA REVIEWS
What are our Customers saying about our safari vacations?
We just returned from our trip to Africa. We had a group of 10 people, going to 4 different countries. It was an absolutely perfect trip, not one thing went wrong. Raza had put together the most time efficient trip for us taking into consideration every possible thing someone can. These people know what they are doing! Every single aspect of the planning was perfect. Thank you very much.

Pappu Patel & Group - Chicago, Illinois, United States

AfricanMecca Safaris assisted my wife and I on planning a wonderful three week trip to Kenya and Capetown, South Africa. They took care of all the reservations. The scheduling was wonderful, and they arranged for someone to meet us every step of the vacation to insure that we made the proper connections and had transport waiting to take us where we needed to go. My heartfelt thanks.

Jack Hart - President, Hart Financial Services - Florida, United States

AfricanMecca Safaris created a remarkable honeymoon tailored to our interests and desires. The quality of service and delivery of experience was unsurpassed. Additionally, they quickly responded to every question we had and went the extra mile to make sure we were always happy with the outcomes. I highly recommend AfricanMecca Safaris to honeymooners, families, or any traveler.

Noorin & Jason Nelson - Maryland, United States

I had a wonderful trip to Africa and I would highly recommend your company.I have been to Africa many times and I have never had such wonderful service. The guide and safari vehicle were both great and all the lodges were outstanding. We will be going to Africa again the year after next and I assure you I will be contacting you. Thanks again for arranging such a great trip.

Ronald Price, President, Ron Price Motors Group - California, United States

Jambo Raza: Where do we even begin.............. Sal and I had the most amazing experience of our lives. I can only tell you that you have accomplished your goal of sharing your love of your beautiful country with us. Thank you for making my dream trip to Africa the memory of a lifetime. I look forward to continuing our friendship and sharing photos one day (although I promise not all 3,0000...........)

Karin Parker and Sal Adornato - New Jersey, United States

Thank you for everything; we had an amazing honeymoon. Words really can't describe our experience, all we can really say was that it was the most amazing experience of our lives and we would recommend AfricanMecca to anyone. We hope to visit Africa again sometime next year! Thank you & all of your staff for an amazing & perfect honeymoon.

Rick Sagoo - London, United Kingdom