Kwandwe Safari & Tour Accommodations
Kwandwe Game Reserve is situated at the heart of the malaria-free Eastern Cape, within easy reach of South Africa's spectacular coastline and provides the perfect beginning or ending to a journey along the famed Garden Route. Guests can witness lion, cheetah, elephant, black and white rhino, and buffalo wandering free in the valley thicket fringing the Fish River. Species such as kudu, grysbok, aardwolf, aardvark and caracal etc.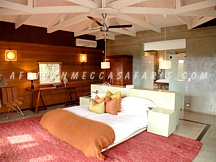 Read More +
ECCA LODGE
Safari Tier 1 Experience
Ecca Lodge is fun, flamboyant and fabulous, with a "funk-meets - futuristic - farmhouse" ambience. Nestled into a gently sloping, densely vegetated hillside, the Lodge is airy and open with barely a barrier between indoors and the African bushveld. The lodge features six intimate suites with spacious living areas.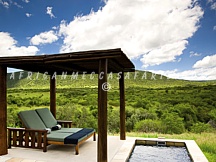 Read More +
GREAT FISH RIVER LODGE
Safari Tier 1 Experience
Great Fish River Lodge is set high up on a steep bank of the Great Fish River overlooking a majestic vista that stretches far into the horizon. With expansive viewing decks, every moment offers an opportunity to explore more of the wonders of the bush - a majestic kudu picking its way to the water's edge.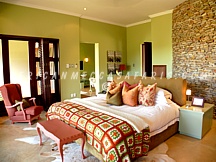 Read More +
MELTON MANOR
Safari Tier 2 Experience
Melton Manor is a whimsical mix of old and new, a contemporary frontier farmhouse with a modern touch. Antique settler furniture is given fresh life with a coat of colourful paint and quirky touches combine familiar objects with unfamiliar uses, shades or locations. High ceilings and deep verandas produce a sense of space.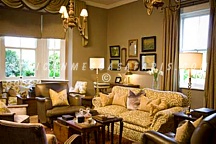 Read More +
UPLANDS HOMESTEAD
Safari Tier 2 Experience
Uplands Homestead is an intimate lodge, sensitively restored 1905 farmhouse. Set in a remote and tranquil valley, this lodge offers an alternative safari experience in Kwandwe's extraordinary African wilderness. If you have always longed to boast of having a farm in Africa, the genteel Uplands Homestead is the place for you!
AFRICANMECCA REVIEWS
What are our Customers saying about our safari holidays?
On behalf of myself, my wife and my two adult daughters, I want to sincerely thank you and AfricanMecca Safaris for our fabulous recent safari. Everything you promised exceeded our expectations and was superb, which is saying a lot since this was our second trip, having had a wonderful Botswana Safari 10 years ago. Do not ever hesitate to use me as a reference.

Robert Schenkein - prVision Photography Studio - Colorado, United States

Chobe was delightful, less than half full. Sussi and Chuma, very nice, again only 13 people in all. All the game drives and river cruises were excellent. We had great weather. The ability to get really close is in inspiring. EVERYWHERE we went, the people were warm, helpful and charming. Thank you so much. We will be recommending your services to all.

Thomas Kelch - California, United States

Raza Visram at AfricanMecca planned the most amazing trip for my friend and I. I wanted to go to 4 countries in 15 days and he made it happen. It was an aggressive itinerary and Raza planned it so well, that the transitions were seamless. The last leg of the trip was Botswana for another Safari and we stayed at the most beautiful lodge. The excitement in seeing the animals so closely is indescribable.

Karin Alsdorf - New Jersey, United States

I had a wonderful trip to Africa and I would highly recommend your company.I have been to Africa many times and I have never had such wonderful service. The guide and safari vehicle were both great and all the lodges were outstanding. We will be going to Africa again the year after next and I assure you I will be contacting you. Thanks again for arranging such a great trip.

Ronald Price, President, Ron Price Motors Group - California, United States

Greetings to you and our most fervent thanks for a wonderful trip of Kenya, Zanzibar, South Africa & Victoria Falls. This was truly a perfect vacation. Thank you so much for all your arrangements. It was a trip filled with different kinds of adventures. We experienced and learned so much. Would highly recommend it to others who are interested in similar trips. Wishing you the very best.

Adrienne & Barrie Carter - Canada

Thank you for everything; we had an amazing honeymoon. Words really can't describe our experience, all we can really say was that it was the most amazing experience of our lives and we would recommend AfricanMecca to anyone. We hope to visit Africa again sometime next year! Thank you & all of your staff for an amazing & perfect honeymoon.

Rick Sagoo - London, United Kingdom
CONTACT AND TALK TO OUR SOUTH AFRICA TOUR EXPERTS TODAY TO START YOUR TRIP PLANNING PROCESS
Request South Africa Custom Or Tailor-Made Safari Vacation Pricing Based On Your Specific Travel Dates At Your Preferred Safari Tier Lodge Or Camp
CONTACT AN EXPERT ON SOUTH AFRICA SAFARI PRICES & TOURS