Introduction To Phinda Game Reserve
Phinda Private Game Reserve encompasses an impressive 22 000 hectares of prime wilderness land, and offers an abundance of natural riches to guests on an African safari. Showcasing one of the continent's finest game viewing experiences featuring Africa's Big Five, Phinda is described as "Seven Worlds of Wonder", with its seven distinct habitats. A magnificent tapestry of woodland, grassland, wetland and forest, interspersed with mountain ranges, rivercourses, marshes and pans, Phinda has a diversity of ecosystems and wildlife to rival any in Africa. Home to 1 000 hectares of Africa's remaining rare dry sand forest, the Reserve sits in close proximity to the unspoiled beaches and spectacular reefs of the Indian Ocean, offering a unique combination of bush and beach adventure.
The Wildlife & Flora Of Phinda
Situated in northern KwaZulu-Natal, Phinda borders conservation areas such as the iSimangaliso/Greater St Lucia Wetland Park a World Heritage Site. This is a national treasure, sheltering perfectly preserved ancient ammonites (giant molluscs of the dinosaur era), and a plethora of animals, birds, reptiles, insects and butterflies in the seven diverse habitats. Guests at Phinda experience unforgettable interpretive game drives in open 4x4 safari vehicles, led by experienced rangers and Zulu trackers, as well as exciting optional adventures on the water, in the air and on the beach. Catch a glimpse of the shy suni antelope, track rhino in the bushveld, observe breeding herds of elephant moving in stately fashion through fever tree forests, watch cheetah teaching their cubs to hunt, follow giant turtles on the shores of the Indian Ocean, glide past pods of hippos on a sunset cruise on the Mzinene River, and spot majestic nyala the most abundant antelope at Phinda. This unique Reserve has earned prestigious awards and recognition as being one of the world's premier benchmarks for responsible, sustainable ecotourism. Established in 1991 with acute sensitivity to environmental impact and a commitment to conservation development, Phinda has initiated and completed many successful community empowerment projects and conservation victories. Phinda Private Game Reserve is home to six magnificent lodges, each with its own individual charm and character.
Phinda Game Reserve Highlights
Prestigious local/international awards
Unique Sand Forest
Lodge built into rock face
Seven different ecosystems
Approximately 400 bird species
"Big five" plus dolphin and turtles
Marine diversity rivals Great Barrier Reef
Twice daily game drives
"Flight of the Fish Eagle" air safari
Zulu Cultural Village visit
A multitude of nearby African safari attractions and activities
Phinda Game Reserve Birding Experience
With over 600 bird species in Maputaland and 417 recorded at Phinda, the reserve is a top birding destination in Southern Africa. This safari, led by Phinda's expert birding guides in a private 4x4 safari vehicle, is the ultimate experience for avid birders. Enjoy exceptional birding in the Greater St Lucia Wetland Park, at Dlinza Forest's Aerial Canopy Boardwalk in Eshowe and throughout Phinda, with its bountiful array of birdlife, including Rudd's apalis, Neergaard's sunbird, pink-throated twinspots and the narina trogon. Other activities include boat cruises and canoeing on the Mzinene River, as well as bush walks. In addition to some very sought after endemic birds, guests will also see other very special, endangered mammals, like the black rhino and cheetah, as well as other members of the Big Five. Subject to availability of specialist ranger and tracker.
Phinda Game Reserve Community Involvement
In a pioneering move for successful land redistribution in South Africa, it was with great pride that Phinda and the Makhasa and Mnqobokazi community leaders signed a groundbreaking land-claim settlement in favour of the communities for 9 500 hectares of pristine Phinda Private Game Reserve land. South Africa's Minister of Agriculture and Land Affairs Lulama Xingwana, Inkatha leader and chairperson of the KwaZulu-Natal House of Traditional Leaders Mangosuthu Buthelezi and a raft of other dignitaries joined more than 4 000 joyous community members for the official ceremony on 11 August 2007. They gathered at the Mduku village neighboring Phinda to witness the historic signing of legal documents giving the Makhasa and Mnqobokazi communities restitution for 9 500 hectares of Phinda land that they were dispossessed of during Apartheid. Past CEO, Steve Fitzgerald played a pioneering role in the land-claim process, as instead of opposing it he realised that for Phinda to ensure ongoing profitable ecotourism at Phinda, it was necessary to own the business but not necessarily to own the land. "It has also always been our dream to return Phinda's land to the community but obviously in a way that can also benefit the company. We realised that the best way forward was to support the land-claim and then to lease the land back from the communities to ensure ongoing sustainability", said Steve. After more than two years of negotiation with the local Inkosis (chiefs) and land-claim commissioners, an acceptable payout of R268 million was agreed upon and a 72-year lease agreement was signed to secure &Phinda's occupancy rights and ensure escalating rental income per annum for the communities. Phinda also agreed to pay both communities an upfront R18 million to facilitate future joint ventures or community empowerment projects.

Existing precedent for this landlord-tenant relationship at &Beyond's Tanzanian and Kenyan properties means the company is fully confident about the agreement. "This is the goose that lays the golden egg," enthused Buthelezi. "It's a win-win situation for both Phinda and the Makhasa and Mnqobokazi clans."Creating win-win situations for conservationists and communities living adjacent to the 46 luxury lodges the company owns and operates in India and sub-Saharan Africa is pivotal to &Beyond's philosophy of sustainable ecotourism, conservation and development. In fact, the group's commitment to community empowerment and relationship-building with the Phinda community particularly through the efforts of &Beyond' s Foundation, the company's social development arm, providing education, health care and infra-structural improvements across Africa has been crucial to the reserve's success."This commercially viable solution was only possible because of the trust established over 16 years", explains Fitzgerald. "Schools and clinics have been built; small businesses developed; university bursaries granted and numerous jobs created."Adds &Beyond's Foundation development manager Isaac Tembe: "Without trust, we could never have concluded this very important deal. Land ownership is an emotional issue. It's about the restoration of these communities' dignity. For them, the value placed on land is much higher than cash..."Meaning "The Return" in Zulu, "Phinda" is an exemplary example of successful responsible tourism firstly restoring misused farmland to its pristine state over 16 years ago, restocking it with the Big Five and other wildlife and developing it into an award-winning ecotourism destination; and now returning the land to its ancestral owners. Phinda's pioneering land-claim settlement proves that if the communities surrounding conservation areas truly feel the benefit of ecotourism, they too will support ongoing conservation and biodiversity of pristine reserves for the benefit of future generations.
Phinda Camp & Lodge Accommodations In South Africa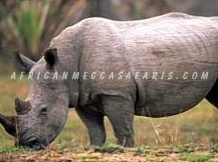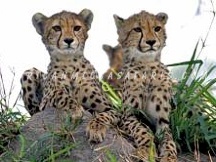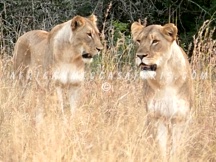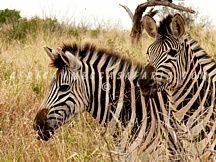 AFRICANMECCA REVIEWS
What are our Customers saying about our safari holidays?
On behalf of myself, my wife and my two adult daughters, I want to sincerely thank you and AfricanMecca Safaris for our fabulous recent safari. Everything you promised exceeded our expectations and was superb, which is saying a lot since this was our second trip, having had a wonderful Botswana Safari 10 years ago. Do not ever hesitate to use me as a reference.

Robert Schenkein - prVision Photography Studio - Colorado, United States

Chobe was delightful, less than half full. Sussi and Chuma, very nice, again only 13 people in all. All the game drives and river cruises were excellent. We had great weather. The ability to get really close is in inspiring. EVERYWHERE we went, the people were warm, helpful and charming. Thank you so much. We will be recommending your services to all.

Thomas Kelch - California, United States

Raza Visram at AfricanMecca planned the most amazing trip for my friend and I. I wanted to go to 4 countries in 15 days and he made it happen. It was an aggressive itinerary and Raza planned it so well, that the transitions were seamless. The last leg of the trip was Botswana for another Safari and we stayed at the most beautiful lodge. The excitement in seeing the animals so closely is indescribable.

Karin Alsdorf - New Jersey, United States

I had a wonderful trip to Africa and I would highly recommend your company.I have been to Africa many times and I have never had such wonderful service. The guide and safari vehicle were both great and all the lodges were outstanding. We will be going to Africa again the year after next and I assure you I will be contacting you. Thanks again for arranging such a great trip.

Ronald Price, President, Ron Price Motors Group - California, United States

Greetings to you and our most fervent thanks for a wonderful trip of Kenya, Zanzibar, South Africa & Victoria Falls. This was truly a perfect vacation. Thank you so much for all your arrangements. It was a trip filled with different kinds of adventures. We experienced and learned so much. Would highly recommend it to others who are interested in similar trips. Wishing you the very best.

Adrienne & Barrie Carter - Canada

Thank you for everything; we had an amazing honeymoon. Words really can't describe our experience, all we can really say was that it was the most amazing experience of our lives and we would recommend AfricanMecca to anyone. We hope to visit Africa again sometime next year! Thank you & all of your staff for an amazing & perfect honeymoon.

Rick Sagoo - London, United Kingdom
CONTACT AND TALK TO OUR SOUTH AFRICA TOUR EXPERTS TODAY TO START YOUR TRIP PLANNING PROCESS
Request South Africa Custom Or Tailor-Made Safari Vacation Pricing Based On Your Specific Travel Dates At Your Preferred Safari Tier Lodge Or Camp
CONTACT AN EXPERT ON SOUTH AFRICA SAFARI PRICES & TOURS