Port Elizabeth Tour Accommodations
Port Elizabeth long stretches of white beach and its historical significance have resulted in the city experiencing a revival of sorts. PE, as it is fondly known, is a vibrant city, with shopping, flea markets, great restaurants and other entertainment on offer. It has always been a family destination, so there are activities for both young and old. Port Elizabeth is worth visiting for its surrounding attractions too you can arrange day trips to game lodges, to the Addo Elephant National Park, to the cultural hub of Grahamstown and to Jeffreys Bay, famous for its impressive scenery and surfing.

Below is a listing of Port Elizabeth hotels in South Africa. To view complete details on the accommodation, click on "Read More+" under each hotel photo.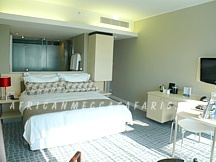 Read More +
RADISSON BLU HOTEL PORT ELIZABETH
Hotel Tier 3 Experience
Radisson Blu Hotel Port Elizabeth could not be better situated for business or pleasure - it is only ten minutes from both airport and city centre, and a slip-slopped stroll away from gorgeous, sandy, Blue Flag beaches. Port Elizabeth has always had a reputation for warmth and friendliness, a gentle spirit and the freshest sea air, but this energetic little city has recently also gained favour with astute business people and industry leaders who have recognised the buzz of commercial growth.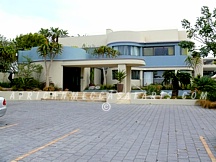 Read More +
NO5 BOUTIQUE ART HOTEL
Hotel Tier 1 Experience
No5 Boutique Art Hotel was renamed from Shamwari Town House in Port Elizabeth. The hotel sets new standards for discreet and lavish boutique accommodation. Flanked by kilometers of unspoilt beaches and malaria-free nature reserves, including the award-winning Shamwari Game Reserve, Port Elizabeth is a premier tourist destination. Seven exquisite suites, all masterpieces of comfort and opulence, are equipped with business units to keep guests connected with the world.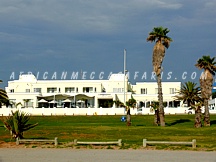 Read More +
THE BEACH HOTEL
Hotel Tier 3 Experience
The Beach Hotel is one of Port Elizabeth's finest boutique hotel located on the magnificent, safest and cleanest beach front spot, located directly opposite Hobie Beach and Shark Rock Pier with The Boardwalk Casino and Entertainment Complex next door. The very popular Kings Beach is a further 2 kms (where King Edward walked with his family)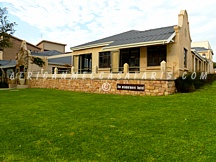 Read More +
THE WINDERMERE
Hotel Tier 2 Experience
The Windermere is a hip, stylish boutique hotel situated in the beach suburb of Humewood, a short walk from Kings Beach and the Blue Flag status Humewood Beach. Combining elements of contemporary chic with classic comforts and the designs of today. A feature of the hotel is the courtyard which gives on a sense of serenity away from the busy outside world.
AFRICANMECCA REVIEWS
What are our Customers saying about our safari vacations?
We just returned from our trip to Africa. We had a group of 10 people, going to 4 different countries. It was an absolutely perfect trip, not one thing went wrong. Raza had put together the most time efficient trip for us taking into consideration every possible thing someone can. These people know what they are doing! Every single aspect of the planning was perfect. Thank you very much.

Pappu Patel & Group - Chicago, Illinois, United States

AfricanMecca Safaris assisted my wife and I on planning a wonderful three week trip to Kenya and Capetown, South Africa. They took care of all the reservations. The scheduling was wonderful, and they arranged for someone to meet us every step of the vacation to insure that we made the proper connections and had transport waiting to take us where we needed to go. My heartfelt thanks.

Jack Hart - President, Hart Financial Services - Florida, United States

AfricanMecca Safaris created a remarkable honeymoon tailored to our interests and desires. The quality of service and delivery of experience was unsurpassed. Additionally, they quickly responded to every question we had and went the extra mile to make sure we were always happy with the outcomes. I highly recommend AfricanMecca Safaris to honeymooners, families, or any traveler.

Noorin & Jason Nelson - Maryland, United States

I had a wonderful trip to Africa and I would highly recommend your company.I have been to Africa many times and I have never had such wonderful service. The guide and safari vehicle were both great and all the lodges were outstanding. We will be going to Africa again the year after next and I assure you I will be contacting you. Thanks again for arranging such a great trip.

Ronald Price, President, Ron Price Motors Group - California, United States

Jambo Raza: Where do we even begin.............. Sal and I had the most amazing experience of our lives. I can only tell you that you have accomplished your goal of sharing your love of your beautiful country with us. Thank you for making my dream trip to Africa the memory of a lifetime. I look forward to continuing our friendship and sharing photos one day (although I promise not all 3,0000...........)

Karin Parker and Sal Adornato - New Jersey, United States

Thank you for everything; we had an amazing honeymoon. Words really can't describe our experience, all we can really say was that it was the most amazing experience of our lives and we would recommend AfricanMecca to anyone. We hope to visit Africa again sometime next year! Thank you & all of your staff for an amazing & perfect honeymoon.

Rick Sagoo - London, United Kingdom