Madikwe Safari & Tour Accommodations
Madikwe Game Reserve is situated against the Botswana border, 90 km north of Zeerust, just 4-5 hours' drive from both Johannesburg and Pretoria, is now one of South Africa's prime safari destinations. Madikwe is a Big Five game reserve covering some 75,000 hectare and home to 66 mammal species with approximately 300 resident and migrant bird species. It is one of South Africa's largest game reserves.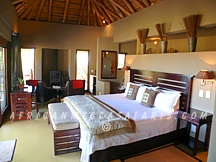 Read More +
ETALI SAFARI LODGE
Safari Tier 2 Experience
Etali Safari Lodge rises to meet you with lavish hospitality. Built in harmony with nature under the vibrant African sun, Etali is an exclusive, intimate haven, where body and soul are rejuvenated in surroundings created by people who understand luxury. You'll find the accommodation at Etali Safari Lodge sheer bliss in any one of our eight luxurious air-conditioned suites.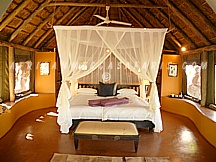 Read More +
JACI'S SAFARI LODGE
Safari Tier 2 Experience
Jaci's Safari Lodge is built around an ancient termite mound overlooking an established and well used water hole, under a grove of Tamboti trees, on the edge of the Marico River. The main complex is unique, open plan, curved around a ancient termite mound, under shady trees overlooking the water hole and on the banks of the Marico River.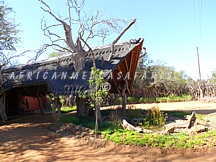 Read More +
JACI'S TREE LODGE
Safari Tier 2 Experience
Jaci's Tree Lodge is a sister lodge to Jaci's Safari Lodge. These two exceptional, privately owned lodges, run by Jan and Jaci, together with an outstanding team, will exceed all your safari expectations boasting 75,000 hectares of "Top Ten" territory. The interiors of Jaci's Tree Lodge proudly showcases the vibrant colors and unique crafts found in Southern Africa.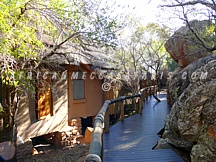 Read More +
MADIKWE HILLS
Safari Tier 1 Experience
Madikwe Hills is situated on a hill, in the heart of the malaria-free Madikwe Game Reserve. Ingeniously set amongst boulders and age-old Tamboti trees, the lodge offers visitors the utmost in luxury and hospitality, where you will find yourself enchanted by a world of intrigue and majestic beauty. The Madikwe Game Reserve is home to the Big Five.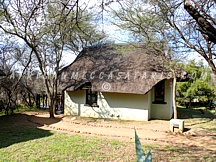 Read More +
MADIKWE RIVER LODGE
Safari Tier 3 Experience
Madikwe River Lodge is surrounded by 75 000 hectares of malaria-free African sand veld, this comfortable lodge is ideally positioned on the Groot Marico River in the heart of Madikwe Game Reserve. The experienced game rangers generously share their intimate knowledge of the bush as you venture on your many safari rides or game walks.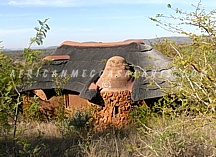 Read More +
MADIKWE SAFARI LODGE
Safari Tier 2 Experience
Madikwe Safari Lodge appears to grow out of the rust-red African setting like a gigantic termite mound. Offering a commanding view of the game-rich plains, each room overlooks the majestic panorama of the Dwarsberg Hills, as well as the Marico River, a green ribbon cutting through the landscape. Madikwe offers an intimate bush experience with a distinct twist.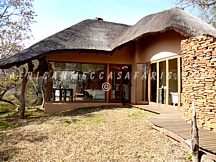 Read More +
MAKANYANE SAFARI LODGE
Safari Tier 1 Experience
Makanyane Safari Lodge is situated on private land within the magnificent 75,000 hectare malaria-free Madikwe Game Reserve - home to the Big 5 and a myriad of other animal and bird species. Makanyane, which lies hidden in lush riverside forest, offers unforgettable wildlife experiences, exquisite accommodation and cuisine as well as outstanding personal service.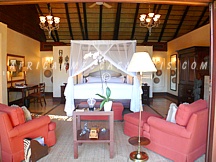 Read More +
MATEYA SAFARI LODGE
Safari Tier 1 Experience
Mateya Safari Lodge is designed for the discerning traveler, offering a graceful fusion of relaxed comfort in a beautiful setting. The lodge caters for a maximum of ten guests. As such, you are assured exclusivity, privacy and the very highest standards of personal care and attention at all times. The lodge consists of five individually designed luxury air-conditioned thatched suites.
AFRICANMECCA REVIEWS
What are our Customers saying about our safari holidays?
On behalf of myself, my wife and my two adult daughters, I want to sincerely thank you and AfricanMecca Safaris for our fabulous recent safari. Everything you promised exceeded our expectations and was superb, which is saying a lot since this was our second trip, having had a wonderful Botswana Safari 10 years ago. Do not ever hesitate to use me as a reference.

Robert Schenkein - prVision Photography Studio - Colorado, United States

Chobe was delightful, less than half full. Sussi and Chuma, very nice, again only 13 people in all. All the game drives and river cruises were excellent. We had great weather. The ability to get really close is in inspiring. EVERYWHERE we went, the people were warm, helpful and charming. Thank you so much. We will be recommending your services to all.

Thomas Kelch - California, United States

Raza Visram at AfricanMecca planned the most amazing trip for my friend and I. I wanted to go to 4 countries in 15 days and he made it happen. It was an aggressive itinerary and Raza planned it so well, that the transitions were seamless. The last leg of the trip was Botswana for another Safari and we stayed at the most beautiful lodge. The excitement in seeing the animals so closely is indescribable.

Karin Alsdorf - New Jersey, United States

I had a wonderful trip to Africa and I would highly recommend your company.I have been to Africa many times and I have never had such wonderful service. The guide and safari vehicle were both great and all the lodges were outstanding. We will be going to Africa again the year after next and I assure you I will be contacting you. Thanks again for arranging such a great trip.

Ronald Price, President, Ron Price Motors Group - California, United States

Greetings to you and our most fervent thanks for a wonderful trip of Kenya, Zanzibar, South Africa & Victoria Falls. This was truly a perfect vacation. Thank you so much for all your arrangements. It was a trip filled with different kinds of adventures. We experienced and learned so much. Would highly recommend it to others who are interested in similar trips. Wishing you the very best.

Adrienne & Barrie Carter - Canada

Thank you for everything; we had an amazing honeymoon. Words really can't describe our experience, all we can really say was that it was the most amazing experience of our lives and we would recommend AfricanMecca to anyone. We hope to visit Africa again sometime next year! Thank you & all of your staff for an amazing & perfect honeymoon.

Rick Sagoo - London, United Kingdom
CONTACT AND TALK TO OUR SOUTH AFRICA TOUR EXPERTS TODAY TO START YOUR TRIP PLANNING PROCESS
Request South Africa Custom Or Tailor-Made Safari Vacation Pricing Based On Your Specific Travel Dates At Your Preferred Safari Tier Lodge Or Camp
CONTACT AN EXPERT ON SOUTH AFRICA SAFARI PRICES & TOURS