Cape Town Camps Bay Tour Accommodations
Cape Town attractions have made it a famed destination for many Hollywood & Bollywood stars and diverse global travelers alike. Take a trip to on the Cape Winelands and taste South Africa's homegrown wines; see the world from your vantage point on the top of famed Table Mountain; dine like a king at any of South Africa's fantastic restaurants and celebrate the great outdoors even during the winter months. Below is a listing of Camps Bay Cape Town accommodations in South Africa.

To view complete details on the accommodation, click on "Read More+" under each hotel photo.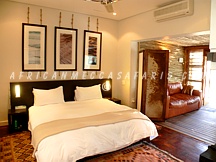 Read More +
CAMPS BAY RETREAT
Hotel Tier 2 Experience
Camps Bay Retreat is located in the Glen area of Camps Bay, Cape Town. The hotel is a sanctuary for the soul, set on four acres of lush green nature reserve. With a mountain meditation pool, thickets of trees, waterfalls and streams, it is a peaceful paradise, where meditative moments are waiting to be had. Views stretch across the ever-changing Atlantic Ocean and along the peaks of the Twelve Apostles Mountain Range, from the Deck House and The Villa.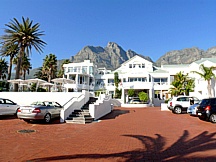 Read More +
THE BAY HOTEL
Hotel Tier 2 Experience
The Bay Hotel offers a distinctive blend of sophisticated elegance and casual comfort. It is superbly designed with 78 rooms and suites offering luxury in an unsurpassed setting. With all the natural elements taking centre stage, The Bay Hotel's rooms are designed to enhance the views of the mountains and the sea. No less than four hotel pools with expansive sun decks offer superlative views of the Atlantic Ocean and majestic Lion's Head.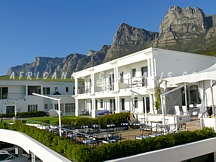 Read More +
TWELVE APOSTLES HOTEL AND SPA
Hotel Tier 1 Experience
Twelve Apostles Hotel and Spa stands at the edge of the world. On one side, a line of majestic mountains The Twelve Apostles reaches towards the heavens; on the other, the sun sets on breeching whales, playful dolphins, and crashing Atlantic rollers. And all around, you can walk the wilderness trails of the Table Mountain National Park. Thw hotel's light, airy, and peaceful rooms are an eclectic mix of contemporary African style, classic European comfort.
Read More +
EZARD HOUSE
Hotel Tier 2 Experience
Ezard House, a true boutique hotel, provides a luxurious experience, a setting unequalled for the majestic grandeur of nature with open space and vistas - a setting only dreamed of. Situated on the slopes of Table Mountain in prestigious Camps Bay, Ezard House, an exclusive 10 bedroomed boutique hotel, provides luxurious accommodation in complete privacy, offering panoramic views of the Atlantic Ocean and the surrounding mountains with the Twelve Apostles
AFRICANMECCA REVIEWS
What are our Customers saying about our safari vacations?
We just returned from our trip to Africa. We had a group of 10 people, going to 4 different countries. It was an absolutely perfect trip, not one thing went wrong. Raza had put together the most time efficient trip for us taking into consideration every possible thing someone can. These people know what they are doing! Every single aspect of the planning was perfect. Thank you very much.

Pappu Patel & Group - Chicago, Illinois, United States

AfricanMecca Safaris assisted my wife and I on planning a wonderful three week trip to Kenya and Capetown, South Africa. They took care of all the reservations. The scheduling was wonderful, and they arranged for someone to meet us every step of the vacation to insure that we made the proper connections and had transport waiting to take us where we needed to go. My heartfelt thanks.

Jack Hart - President, Hart Financial Services - Florida, United States

AfricanMecca Safaris created a remarkable honeymoon tailored to our interests and desires. The quality of service and delivery of experience was unsurpassed. Additionally, they quickly responded to every question we had and went the extra mile to make sure we were always happy with the outcomes. I highly recommend AfricanMecca Safaris to honeymooners, families, or any traveler.

Noorin & Jason Nelson - Maryland, United States

I had a wonderful trip to Africa and I would highly recommend your company.I have been to Africa many times and I have never had such wonderful service. The guide and safari vehicle were both great and all the lodges were outstanding. We will be going to Africa again the year after next and I assure you I will be contacting you. Thanks again for arranging such a great trip.

Ronald Price, President, Ron Price Motors Group - California, United States

Jambo Raza: Where do we even begin.............. Sal and I had the most amazing experience of our lives. I can only tell you that you have accomplished your goal of sharing your love of your beautiful country with us. Thank you for making my dream trip to Africa the memory of a lifetime. I look forward to continuing our friendship and sharing photos one day (although I promise not all 3,0000...........)

Karin Parker and Sal Adornato - New Jersey, United States

Thank you for everything; we had an amazing honeymoon. Words really can't describe our experience, all we can really say was that it was the most amazing experience of our lives and we would recommend AfricanMecca to anyone. We hope to visit Africa again sometime next year! Thank you & all of your staff for an amazing & perfect honeymoon.

Rick Sagoo - London, United Kingdom