Londolozi Kruger Safari & Tour Accommodations
Londolozi in Sabi Sand is one of the original pioneering Private Game Reserves within Sabi Sand Reserve ecotourism industry in South Africa. The root of the word Londolozi is the Zulu word for protect and means "protector of all living things" – an ambitious conservation ethic that Londolozi embraces in its sensitivity to the natural world. The reserve is internationally recognized for its far-sighted and progressive management of land and wildlife rehabilitation as well as productive community involvement. World renowned as one of Africa's finest game lodges, Londolozi was the first game reserve in the world to be accorded Relais & Chateaux status, reinforcing its commitment to luxurious accommodation, fine cuisine and exceptional service. Below is a listing of Londolozi Kruger accommodations in South Africa. To view complete details on the accommodation, click on "Read More+" under each camp or lodge photo.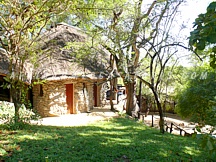 Read More +
FOUNDERS CAMP
Safari Tier 2 Experience
Londolozi Founders Camp is situated in the Sabi Sand Private Game Reserve within its own Londolozi Game Reserve, bordering the world famous Kruger National Park. Founders Camp has seven chalets. This is safari camp in the classic style, replete with classic black and cream ticking fabric and original mahogany beds. Deep leather couches, military chests, compass safari lamps and a riverside lounge sala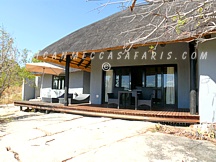 Read More +
GRANITE CAMP
Safari Tier 1 Experience
Londolozi Granite Camp offers three private suites. The Private Granite Suites offer an extraordinary experience for the exclusive use of six Guests. Bold, inspiring materials mirror the extrusion of granite rocks that flank the camp while conveying the raw essence of Africa. A palette of silver, charcoal and elephant grey in a range of sumptuous materials creates an elegant and contemporary setting in each expansive suite.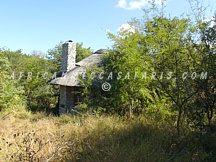 Read More +
PIONEER CAMP
Safari Tier 2 Experience
Londolozi Pioneer Camp has three private suites. A 500-year-old riverine forest throws dappled light on the three exclusive suites and provides a dramatic backdrop for the camp's celebration of the past. Guest suites are themed with historic memorabilia, telling a story of a bygone era and furnishing an environment of leisurely indulgence. It does not accommodate children under the age of 16 unless guests take exclusive use.
Read More +
LONDOLOZI TREE CAMP
Safari Tier 2 Experience
Londolozi Tree Camp offers 6 private suites. Tree Camp embodies the very essence of Londolozi's continuous striving to transcend and redefine the journey to the wilderness. This is a place of connoisseurship, leopards, orchids, lanterns and lead wood trees. Guests spend lazy afternoons on their decks, champagne in hand as they survey the ancient landscape, elephants feeding below in the river.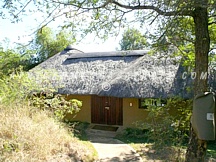 Read More +
LONDOLOZI VARTY CAMP
Safari Tier 2 Experience
Londolozi Varty Camp offers 8 standard chalets and 2 superior chalets. The campfire has burned here for over 82 years making Varty Camp the symbolic heart and soul of Londolozi. The décor echoes the same tones of the owners private homes and their continuing love affair with the earth. All rooms have private swimming pools framed by timber decks that overlook the riverine bush.
AFRICANMECCA REVIEWS
What are our Customers saying about our safari holidays?
We just returned from our trip to Africa. We had a group of 10 people, going to 4 different countries. It was an absolutely perfect trip, not one thing went wrong. Raza had put together the most time efficient trip for us taking into consideration every possible thing someone can. These people know what they are doing! Every single aspect of the planning was perfect. Thank you very much.

Pappu Patel & Group - Chicago, Illinois, United States

AfricanMecca Safaris assisted my wife and I on planning a wonderful three week trip to Kenya and Capetown, South Africa. They took care of all the reservations. The scheduling was wonderful, and they arranged for someone to meet us every step of the vacation to insure that we made the proper connections and had transport waiting to take us where we needed to go. My heartfelt thanks.

Jack Hart - President, Hart Financial Services - Florida, United States

AfricanMecca Safaris created a remarkable honeymoon tailored to our interests and desires. The quality of service and delivery of experience was unsurpassed. Additionally, they quickly responded to every question we had and went the extra mile to make sure we were always happy with the outcomes. I highly recommend AfricanMecca Safaris to honeymooners, families, or any traveler.

Noorin & Jason Nelson - Maryland, United States

I had a wonderful trip to Africa and I would highly recommend your company.I have been to Africa many times and I have never had such wonderful service. The guide and safari vehicle were both great and all the lodges were outstanding. We will be going to Africa again the year after next and I assure you I will be contacting you. Thanks again for arranging such a great trip.

Ronald Price, President, Ron Price Motors Group - California, United States

Jambo Raza: Where do we even begin.............. Sal and I had the most amazing experience of our lives. I can only tell you that you have accomplished your goal of sharing your love of your beautiful country with us. Thank you for making my dream trip to Africa the memory of a lifetime. I look forward to continuing our friendship and sharing photos one day (although I promise not all 3,0000...........)

Karin Parker and Sal Adornato - New Jersey, United States

Thank you for everything; we had an amazing honeymoon. Words really can't describe our experience, all we can really say was that it was the most amazing experience of our lives and we would recommend AfricanMecca to anyone. We hope to visit Africa again sometime next year! Thank you & all of your staff for an amazing & perfect honeymoon.

Rick Sagoo - London, United Kingdom
CONTACT AND TALK TO OUR SOUTH AFRICA TOUR EXPERTS TODAY TO START YOUR TRIP PLANNING PROCESS
Request South Africa Custom Or Tailor-Made Safari Vacation Pricing Based On Your Specific Travel Dates At Your Preferred Safari Tier Lodge Or Camp
CONTACT AN EXPERT ON SOUTH AFRICA SAFARI PRICES & TOURS