Mala Mala Kruger Safari & Tour Accommodations
Mala Mala Game Reserve is the safari industry's blueprint to the luxury photographic safari. In existence since 1927, this massive thriving tract of land produces the most exciting wildlife experience this side of the equator. Mala Mala Game Reserve is the largest private Big Five game reserve in South Africa . Comprising 13300 hectares, Mala Mala shares a 19 km (12 mile) unfenced border with the world-renowned Kruger National Park and lies sandwiched between the national park and the Sabi Sand Reserve. Below is a listing of Mala Mala Kruger accommodations in South Africa. To view complete details on the accommodation, click on "Read More+" under each camp or lodge photo.
Read More +
MALA MALA CAMP
Safari Tier 2 Experience
Mala Mala is the safari industry's blueprint to the luxury photographic safari. Every aspect of the camp is designed to appreciate and enjoy the view of the surrounding wilds. Pathways wind their way along the perimeter of the camp to reveal individual ochre colored units tucked into the greenery which flanks the Sand River. Massive trees and rolling green lawns are filled with birdsong, with the occasional antelope or elephant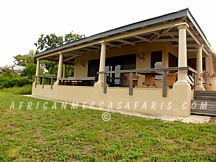 Read More +
RATTRAYS ON MALA MALA
Safari Tier 1 Experience
Rattrays on Mala Mala bears the style of crystal and leather, with beautiful furnishings that are a treat to the connoisseur of the finer things in life, captured over generations on a land that remains as old as time. Each suite or khaya (Zulu for "home") functions as an inclusive home, resplendent with hand-selected furnishings, lavish his-and-hers bathrooms, a secluded outdoor shower and a private heated plunge pool.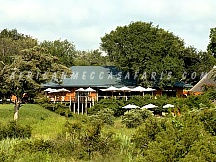 Read More +
SABLE CAMP MALA MALA
Safari Tier 2 Experience
Sable Camp Mala Mala is imbued with the spirit of Mala Mala and shares her soul. The Sable Camp is a more intimate version of the Main Camp and the choice for those seeking a more private and intimate safari. Each of the individually decorated, spacious and comfortable suites under traditional thatching occupies an idyllic vantage point and provides a platform from which to admire the unimpeded views
AFRICANMECCA REVIEWS
What are our Customers saying about our safari holidays?
We just returned from our trip to Africa. We had a group of 10 people, going to 4 different countries. It was an absolutely perfect trip, not one thing went wrong. Raza had put together the most time efficient trip for us taking into consideration every possible thing someone can. These people know what they are doing! Every single aspect of the planning was perfect. Thank you very much.

Pappu Patel & Group - Chicago, Illinois, United States

AfricanMecca Safaris assisted my wife and I on planning a wonderful three week trip to Kenya and Capetown, South Africa. They took care of all the reservations. The scheduling was wonderful, and they arranged for someone to meet us every step of the vacation to insure that we made the proper connections and had transport waiting to take us where we needed to go. My heartfelt thanks.

Jack Hart - President, Hart Financial Services - Florida, United States

AfricanMecca Safaris created a remarkable honeymoon tailored to our interests and desires. The quality of service and delivery of experience was unsurpassed. Additionally, they quickly responded to every question we had and went the extra mile to make sure we were always happy with the outcomes. I highly recommend AfricanMecca Safaris to honeymooners, families, or any traveler.

Noorin & Jason Nelson - Maryland, United States

I had a wonderful trip to Africa and I would highly recommend your company.I have been to Africa many times and I have never had such wonderful service. The guide and safari vehicle were both great and all the lodges were outstanding. We will be going to Africa again the year after next and I assure you I will be contacting you. Thanks again for arranging such a great trip.

Ronald Price, President, Ron Price Motors Group - California, United States

Jambo Raza: Where do we even begin.............. Sal and I had the most amazing experience of our lives. I can only tell you that you have accomplished your goal of sharing your love of your beautiful country with us. Thank you for making my dream trip to Africa the memory of a lifetime. I look forward to continuing our friendship and sharing photos one day (although I promise not all 3,0000...........)

Karin Parker and Sal Adornato - New Jersey, United States

Thank you for everything; we had an amazing honeymoon. Words really can't describe our experience, all we can really say was that it was the most amazing experience of our lives and we would recommend AfricanMecca to anyone. We hope to visit Africa again sometime next year! Thank you & all of your staff for an amazing & perfect honeymoon.

Rick Sagoo - London, United Kingdom
CONTACT AND TALK TO OUR SOUTH AFRICA TOUR EXPERTS TODAY TO START YOUR TRIP PLANNING PROCESS
Request South Africa Custom Or Tailor-Made Safari Vacation Pricing Based On Your Specific Travel Dates At Your Preferred Safari Tier Lodge Or Camp
CONTACT AN EXPERT ON SOUTH AFRICA SAFARI PRICES & TOURS