Thornybush Kruger Safari & Tour Accommodations
Thornybush Game Reserve forms part of the Greater Kruger Area that treasures an astonishing number of species of mammal, including the Big Five as well as more than 500 diverse species of avi-fauna. The huge biodiversity of the Greater Kruger Park area makes it an exceptional destination for the thoughtful wildlife lovers. Additionally, there are myriad of flora to enchantment the eye and please the liveliest botanist. The encompassing landscape has a jagged and tender beauty that enthralls and invigorates; the Drakensberg Mountains emerge large on the horizon. Wisdom of timelessness pervades. Vacate civilization as you know it and experience the liberation of the wilderness. Royal Malewane being one of preferred accommodations to stay in. Below is a listing of Thornybush Kruger accommodations in South Africa. To view complete details on the accommodation, click on "Read More+" under each camp or lodge photo.
Read More +
CHAPUNGU TENTED CAMP
Safari Tier 2 Experience
Chapungu Tented Camp is tastefully furnished in old-world colonial splendor and offers safari enthusiasts an atmosphere reminiscent of the style and class of that bygone era complete with great cuisine and old fashioned service. Eight comfortable tents, each with private facilities and feature bushveld bath, connected by pathways with the main camp.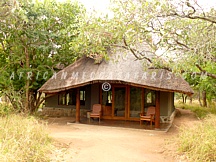 Read More +
JACKALBERRY LODGE
Safari Tier 3 Experience
Jackalberry Lodge is home to an abundance of species: from mammals including the "Big Five" to avi-fauna, reptiles, amphibians and diverse range of flora. It offers seven chalets each comprising a bedroom and en-suite bathroom with a bath and indoor and outdoor showers. Morning and evening safaris in open landrovers are conducted by qualified rangers and trackers.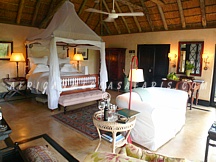 Read More +
ROYAL MALEWANE
Safari Tier 1 Experience
Royal Malewane is where luxury meets the wild in the heart of Africa's finest bushveld with expert guides and trackers ensuring intimate game experiences and close sightings of the big five. Sumptuous dining is a signatory feature, as the lodge is the first to boast a Chaîne des Rôtisseurs Blazon for cuisine. The suites are the pinnacle of refinement and opulence.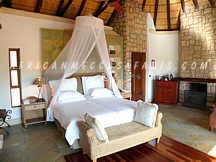 Read More +
SHUMBALALA GAME LODGE
Safari Tier 1 Experience
Shumbalala Game Lodge has been described by many who have visited it as a feast for the senses and a journey for the soul. A place where the setting was designed by nature, the spirit supplied by the hosts and the comfort derived from the soft linen and fabrics. Accommodation and tasteful public areas are home to a maximum of eight special guests. All bedroom accommodation of the highest standard and space.
Read More +
THORNYBUSH LODGE
Safari Tier 3 Experience
Thornybush Lodge provides accommodation consisting of stylish air-conditioned suites, with extensive living areas overlooking the seasonal Monwana River. There are 18 suites, 2 family suites and accommodation caters for a maximum of 40 people collectively. From within the sumptuous individual suites, each with full en-suite facilities, outdoor shower and private decks, sweeping vistas over the savannah
AFRICANMECCA REVIEWS
What are our Customers saying about our safari holidays?
We just returned from our trip to Africa. We had a group of 10 people, going to 4 different countries. It was an absolutely perfect trip, not one thing went wrong. Raza had put together the most time efficient trip for us taking into consideration every possible thing someone can. These people know what they are doing! Every single aspect of the planning was perfect. Thank you very much.

Pappu Patel & Group - Chicago, Illinois, United States

AfricanMecca Safaris assisted my wife and I on planning a wonderful three week trip to Kenya and Capetown, South Africa. They took care of all the reservations. The scheduling was wonderful, and they arranged for someone to meet us every step of the vacation to insure that we made the proper connections and had transport waiting to take us where we needed to go. My heartfelt thanks.

Jack Hart - President, Hart Financial Services - Florida, United States

AfricanMecca Safaris created a remarkable honeymoon tailored to our interests and desires. The quality of service and delivery of experience was unsurpassed. Additionally, they quickly responded to every question we had and went the extra mile to make sure we were always happy with the outcomes. I highly recommend AfricanMecca Safaris to honeymooners, families, or any traveler.

Noorin & Jason Nelson - Maryland, United States

I had a wonderful trip to Africa and I would highly recommend your company.I have been to Africa many times and I have never had such wonderful service. The guide and safari vehicle were both great and all the lodges were outstanding. We will be going to Africa again the year after next and I assure you I will be contacting you. Thanks again for arranging such a great trip.

Ronald Price, President, Ron Price Motors Group - California, United States

Jambo Raza: Where do we even begin.............. Sal and I had the most amazing experience of our lives. I can only tell you that you have accomplished your goal of sharing your love of your beautiful country with us. Thank you for making my dream trip to Africa the memory of a lifetime. I look forward to continuing our friendship and sharing photos one day (although I promise not all 3,0000...........)

Karin Parker and Sal Adornato - New Jersey, United States

Thank you for everything; we had an amazing honeymoon. Words really can't describe our experience, all we can really say was that it was the most amazing experience of our lives and we would recommend AfricanMecca to anyone. We hope to visit Africa again sometime next year! Thank you & all of your staff for an amazing & perfect honeymoon.

Rick Sagoo - London, United Kingdom
CONTACT AND TALK TO OUR SOUTH AFRICA TOUR EXPERTS TODAY TO START YOUR TRIP PLANNING PROCESS
Request South Africa Custom Or Tailor-Made Safari Vacation Pricing Based On Your Specific Travel Dates At Your Preferred Safari Tier Lodge Or Camp
CONTACT AN EXPERT ON SOUTH AFRICA SAFARI PRICES & TOURS