Timbavati Kruger Safari & Tour Accommodations
Timbavati Game Reserve is one of a handful of nature reserves on the western boundary of the Kruger Park that are now an integral part of the Kruger Park system. The terrain is undulating with altitudes varying between 300 and 500m above sea level. The area is characterized as 'savanna bushveld' with 6 different landscape types: acacia woodland, open woodland, mopane woodland, combretum woodland, mixed combretum woodland and mixed veld on Gabbro. Elephant, buffalo, kudu, zebra, wildebeest, giraffe, impala, waterbuck and warthog abound together with their attendant predators which include lion, leopard, cheetah and hyena. The critically endangered African wild dog is also a regular visitor to the Timbavati Reserve. Below is a listing of Timbavati Kruger accommodations in South Africa. To view complete details on the accommodation, click on "Read More+" under each camp or lodge photo.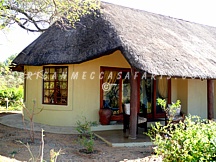 Read More +
KINGS CAMP
Safari Tier 1 Experience
Kings Camp reflects the charm and romance of a colonial past in a pristine corner of unspoilt Africa. The eleven generously spaced thatched colonial suites luxuriously equipped with romantic soft cascading mosquito nets, remote controlled air-conditioning, tea and coffee facilities, Victorian ball-and-claw bath, indoor and outdoor double shower
Read More +
MOTSWARI LODGE
Safari Tier 2 Experience
Motswari Lodge promises rich game viewing as our boundary with Kruger is open. In operation for more than 30 years and an original, traditional game lodge, Motswari offers bush as far as the eye can see and simple luxuries that don't intrude on your experience. With 15 luxury-appointed en-suite bungalows, each with air-conditioning, and all offering unrivalled bush views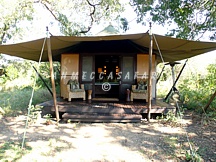 Read More +
NGALA CAMP
Safari Tier 1 Experience
Ngala Camp peers out onto the banks of the seasonal Timbavati River from the shelter of dense indigenous trees. The six tented suites tents offer a tranquil escape for wired city dwellers and frazzled travelers alike. The sights and sounds of the bush provide a gentle backdrop to life at Ngala, as the ancient patterns of African life carry on around the camp.
Read More +
NGALA SAFARI LODGE
Safari Tier 2 Experience
Ngala Safari Lodge is protected by a living canopy of immense mopane and tamboti trees as it carves out a set of intimate, elegant spaces sheltered and secluded by the thick vegetation. Twenty thatched cottages with shaded verandas nestle among the trees, ensuring the perfect privacy of your retreat. For those in need of even more personal space, the exclusive Safari Suite offers its own sitting room and swimming pool, as well as the use of a private 4x4 safari vehicle.
Read More +
ROYAL LEGEND SAFARI LODGE
Safari Tier 3 Experience
Royal Legend Safari Lodge is located along the banks of a seasonal river in the Timbavati Private Game Reserve, which forms part of the Greater Kruger National Park. The ten luxurious chalets all command a magnificent view of the watercourse and its surrounding lush vegetation. Each chalet was built with minimum intrusion into the natural environment, and guests can appreciate an almost unbroken view of the river from the comfort of their beds through the glass doors on two sides of the chalet.
AFRICANMECCA REVIEWS
What are our Customers saying about our safari holidays?
We just returned from our trip to Africa. We had a group of 10 people, going to 4 different countries. It was an absolutely perfect trip, not one thing went wrong. Raza had put together the most time efficient trip for us taking into consideration every possible thing someone can. These people know what they are doing! Every single aspect of the planning was perfect. Thank you very much.

Pappu Patel & Group - Chicago, Illinois, United States

AfricanMecca Safaris assisted my wife and I on planning a wonderful three week trip to Kenya and Capetown, South Africa. They took care of all the reservations. The scheduling was wonderful, and they arranged for someone to meet us every step of the vacation to insure that we made the proper connections and had transport waiting to take us where we needed to go. My heartfelt thanks.

Jack Hart - President, Hart Financial Services - Florida, United States

AfricanMecca Safaris created a remarkable honeymoon tailored to our interests and desires. The quality of service and delivery of experience was unsurpassed. Additionally, they quickly responded to every question we had and went the extra mile to make sure we were always happy with the outcomes. I highly recommend AfricanMecca Safaris to honeymooners, families, or any traveler.

Noorin & Jason Nelson - Maryland, United States

I had a wonderful trip to Africa and I would highly recommend your company.I have been to Africa many times and I have never had such wonderful service. The guide and safari vehicle were both great and all the lodges were outstanding. We will be going to Africa again the year after next and I assure you I will be contacting you. Thanks again for arranging such a great trip.

Ronald Price, President, Ron Price Motors Group - California, United States

Jambo Raza: Where do we even begin.............. Sal and I had the most amazing experience of our lives. I can only tell you that you have accomplished your goal of sharing your love of your beautiful country with us. Thank you for making my dream trip to Africa the memory of a lifetime. I look forward to continuing our friendship and sharing photos one day (although I promise not all 3,0000...........)

Karin Parker and Sal Adornato - New Jersey, United States

Thank you for everything; we had an amazing honeymoon. Words really can't describe our experience, all we can really say was that it was the most amazing experience of our lives and we would recommend AfricanMecca to anyone. We hope to visit Africa again sometime next year! Thank you & all of your staff for an amazing & perfect honeymoon.

Rick Sagoo - London, United Kingdom
CONTACT AND TALK TO OUR SOUTH AFRICA TOUR EXPERTS TODAY TO START YOUR TRIP PLANNING PROCESS
Request South Africa Custom Or Tailor-Made Safari Vacation Pricing Based On Your Specific Travel Dates At Your Preferred Safari Tier Lodge Or Camp
CONTACT AN EXPERT ON SOUTH AFRICA SAFARI PRICES & TOURS