Introduction To Sabi Sand Reserve
Nowhere in South Africa will one find a wildlife experience quite like the one experienced within the Sabi Sand Reserve. Sharing a 50km (31.25 miles) unfenced border with the Kruger National Park, this immense (65 000 hectare/ 153 000 acre) and diverse tract of land is home to The Big Five (lion, leopard, rhino, buffalo and elephant), and much much more. The Sabi Sand Reserve is an association of freehold landowners, many of whom manage commercially active safari operations. Sharing a common environmental management program, this association is administered by a warden reporting to an elected executive committee.
Sabi Sand Reserve Ecological Experience
This wilderness area is also in the process of being further enlarged within the Peace Park concept with an expected integration and amalgamation with protected areas in Mozambique, and eventually Zimbabwe. Two rivers supply the game reserve with a valuable water source. The Sand River flows through the reserve for 50km (31 miles) from north west to south east whilst the Sabie River flows on the southern boundary. The sustenance of these rivers ensures that this area enjoys one of the highest and most bio-diverse wildlife populations of any area in Africa. Over two hundred different species live in abundance, whilst the ever changing bird life provides even the most experienced ornithologist with rare finds. Such is the environment that the wildlife, save for the migratory birds, remain in their territories all year round. Wildlife viewing is second to none. The Sabi Sand Reserve enjoys good quality viewing of leopard (the most elusive of predators), as well as elephant, lion, rhino, buffalo, cheetah, giraffe, zebra and a vast variety of antelope and other species. In fact, a checklist of the reserve would yield no fewer than 330+ tree species, 45+ fish species, 30+ amphibian species, 110+ reptile species, 500+ bird species and 145+ mammal species! And all occurring in their own natural environment, which has been preserved in its original splendor.
Sabi Sand Reserve Conservation Efforts
The main objective of the Sabi Sand game management policy is to monitor the habitat and wildlife densities. Maintaining a balance between food resource and the optimal biomass has not been easy. The reserve has had to cope with threats such as foot and mouth disease, bovine TB, uncontrolled fires, bush encroachment and overgrazing. The reintroduction of certain species such as rhino, tssessebee, nyala, sable, wildebeest and reedbuck have supported this objective to some degree, whilst the ever burgeoning elephant population remains a challenge to the future of the natural habitat. The Sabi Sand focuses on conservation and the environment only. To this end it was conceived and remains as an association whose aims are the promotion and conservation of wildlife, fauna and flora and to the preservation of the area as a sanctuary for every type of indigenous wildlife. The protection of the rights and interests of the reserve with respect to the Sand River (the lifeblood of the Sabi Sand) are also promoted and the hunting of wildlife is forbidden. In order to prevent the area from deteriorating into a series of small holdings, Lodges in the Sabi Sand may no longer be subdivided into portions of less than 857 hectares.
Sabi Sand Reserve Community Commitment
Sabi Sand Reserve members are dedicated to the upliftm ent of local neighbors living in the area. Many of these communities have been defined by poverty, and a lack of opportunity to improve their standard of living.

Sabi Sand Reserve members have embarked on initiatives such as:
The establishment of infrastructures to educate children, enabling them to seek a brighter future.
The creation of homes for children orphaned by the AIDS epidemic.
The establishment of education programs to equip younger and older adults alike about how the pandemic of AIDS in Africa can be avoided.
Employment and development opportunities.
Provision of basic needs such as access to food, electricity, water and health services.
Skills development projects such as beading, candle making, sewing, hat making, baking and shoe making.
Sports training (including soccer, netball, cricket and hockey) at primary school level to help youngsters cultivate their innate physical talents.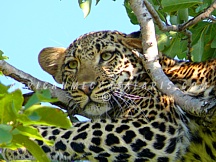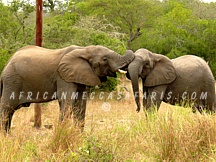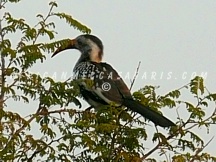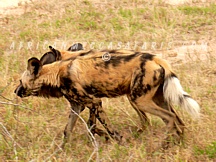 AFRICANMECCA REVIEWS
What are our Customers saying about our safari holidays?
On behalf of myself, my wife and my two adult daughters, I want to sincerely thank you and AfricanMecca Safaris for our fabulous recent safari. Everything you promised exceeded our expectations and was superb, which is saying a lot since this was our second trip, having had a wonderful Botswana Safari 10 years ago. Do not ever hesitate to use me as a reference.

Robert Schenkein - prVision Photography Studio - Colorado, United States

Chobe was delightful, less than half full. Sussi and Chuma, very nice, again only 13 people in all. All the game drives and river cruises were excellent. We had great weather. The ability to get really close is in inspiring. EVERYWHERE we went, the people were warm, helpful and charming. Thank you so much. We will be recommending your services to all.

Thomas Kelch - California, United States

Raza Visram at AfricanMecca planned the most amazing trip for my friend and I. I wanted to go to 4 countries in 15 days and he made it happen. It was an aggressive itinerary and Raza planned it so well, that the transitions were seamless. The last leg of the trip was Botswana for another Safari and we stayed at the most beautiful lodge. The excitement in seeing the animals so closely is indescribable.

Karin Alsdorf - New Jersey, United States

I had a wonderful trip to Africa and I would highly recommend your company.I have been to Africa many times and I have never had such wonderful service. The guide and safari vehicle were both great and all the lodges were outstanding. We will be going to Africa again the year after next and I assure you I will be contacting you. Thanks again for arranging such a great trip.

Ronald Price, President, Ron Price Motors Group - California, United States

Greetings to you and our most fervent thanks for a wonderful trip of Kenya, Zanzibar, South Africa & Victoria Falls. This was truly a perfect vacation. Thank you so much for all your arrangements. It was a trip filled with different kinds of adventures. We experienced and learned so much. Would highly recommend it to others who are interested in similar trips. Wishing you the very best.

Adrienne & Barrie Carter - Canada

Thank you for everything; we had an amazing honeymoon. Words really can't describe our experience, all we can really say was that it was the most amazing experience of our lives and we would recommend AfricanMecca to anyone. We hope to visit Africa again sometime next year! Thank you & all of your staff for an amazing & perfect honeymoon.

Rick Sagoo - London, United Kingdom
CONTACT AND TALK TO OUR SOUTH AFRICA TOUR EXPERTS TODAY TO START YOUR TRIP PLANNING PROCESS
Request South Africa Custom Or Tailor-Made Safari Vacation Pricing Based On Your Specific Travel Dates At Your Preferred Safari Tier Lodge Or Camp
CONTACT AN EXPERT ON SOUTH AFRICA SAFARI PRICES & TOURS