Cape Town Waterfront & Harbour Tour Accommodations
Cape Town attractions have made it a famed destination for many Hollywood & Bollywood stars and diverse global travelers alike. Take a trip to on the Cape Winelands and taste South Africa's homegrown wines; see the world from your vantage point on the top of famed Table Mountain; dine like a king at any of South Africa's fantastic restaurants and celebrate the great outdoors even during the winter months. Below is a listing of Victoria & Alfred Waterfront & Harbor Vicinity Cape Town accommodations in South Africa.

To view complete details on the accommodation, click on "Read More+" under each hotel photo.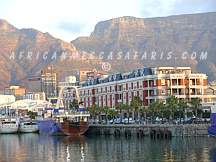 Read More +
CAPE GRACE HOTEL
Hotel Tier 1 Experience
Cape Grace Hotel delivers all the creature comforts you would expect from world class luxury accommodation and lots of little extras too. Proudly situated in the iconic centre of Cape Town's Victoria & Alfred Waterfront, on its very own private quay - Cape Town's most popular shopping and tourist attractions are all easily within reach. Providing a tantalizing experience that melds luxury with traditional Cape culture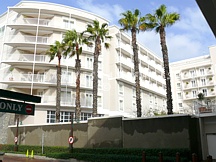 Read More +
COMMODORE HOTEL
Hotel Tier 3 Experience
Commodore Hotel, a Legacy Hotel is where stylish living, excellent service and a tranquil setting comes standard. Enjoy breathtaking views of the charming 'Mother City' from the upper floors of the hotel's superior rooms or treat yourself to cocktails on the terrace. At Commodore, Escapism is not only a state of mind; it's a place of abode at the cosmopolitan Victoria & Alfred Waterfront in Cape Town.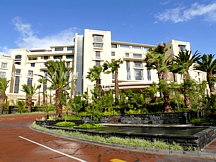 Read More +
ONE&ONLY CAPE TOWN
Hotel Tier 1 Experience
One&Only Cape Town, South Africa's premiere urban chic resort introduces an unprecedented level of luxury and style to one of the world's most fascinating cities. With its spectacular location in the Victoria & Alfred Waterfront and its stunning views of Table Mountain, the resort is a destination unto itself. Discerning travelers and Capetonians alike are extended a warm welcome to dine on the celebrated cuisines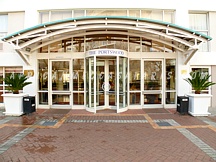 Read More +
PORTSWOOD HOTEL
Hotel Tier 3 Experience
Portswood Hotel is the type of place where you are more likely to want to extend your stay. This elegant hotel not only offers superior accommodation and a relaxed atmosphere, but a uniquely personal approach to service. This commitment to service excellence extends far beyond the needs of the leisure traveler, providing all the amenities international business travelers demand.
Read More +
RADISSON BLU HOTEL WATERFRONT
Hotel Tier 3 Experience
Radisson Blu Hotel Waterfront is spectacularly situated on the edge of the Atlantic Ocean offering sweeping views overlooking the famous Victoria & Alfred Waterfront, Robben Island and Table Mountain. The 177 rooms and suites have balconies and breathtaking views of the Atlantic Ocean. Free wireless internet access is available in all guestrooms.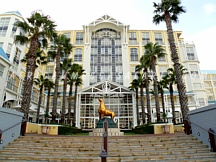 TABLE BAY HOTEL
Hotel Tier 2 Experience
Table Bay Hotel is a Sun International Hotel. That means you can expect nothing less than the highest level of service and enjoy a myriad of superior activities. In everything Table Bay does, it aims to exceed your expectations, allowing you to escape into the romance and luxury of your journey. The Table Bay Hotel has a total of 329 fully air-conditioned rooms which include single, double, luxury rooms and suites.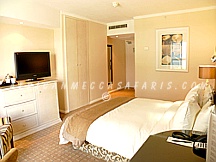 Read More +
SOUTHERN SUN THE CULLINAN
Hotel Tier 3 Experience
Southern Sun The Cullinan Hotel - is an elegant and stylish hotel, ideal for both business and leisure travelers. Since The Cullinan is situated at the entrance to the exciting V&A Waterfront, it offers views of Table Mountain, the bustling harbor, the Waterfront and the city. The Cullinan complements the rich, cultural heritage of Cape Town with a timeless architectural tradition.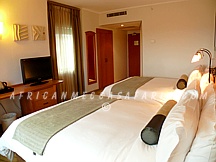 Read More +
SOUTHERN SUN WATERFRONT
Hotel Tier 3 Experience
Southern Sun Waterfront is ideally nestled between the majestic Table Mountain and the Atlantic Ocean. It is well sited close to the entrance to the city's premier leisure complex - The Victoria and Alfred Waterfront, and is a short 15-minute drive from Cape Town International Airport. A variety of beaches, as well as the city centre, are also within close reach.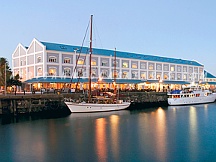 Read More +
VICTORIA & ALFRED HOTEL
Hotel Tier 2 Experience
Victoria & Alfred Hotel is perfectly situated in the heart of the Victoria & Alfred Waterfront offering spectacular views of the working harbor and Table Mountain. Walk in the utmost safety to some of the finest retail outlets from designer stores to restaurants, craft markets, cinemas, boat cruises to Robben Island and entertainment in the amphitheatre.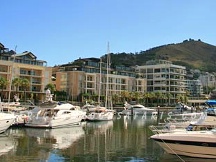 Read More +
WATERFRONT VILLAGE
Hotel Tier 3 Experience
Waterfront Village is situated on the water's edge in the picturesque marina and offers a unique and exquisite setting. It is located in the world-renowned V&A Waterfront in Cape Town, next to the Cape Grace Hotel and One&Only and within walking distance to newly launched maze and Nobu, acclaimed international restaurants by Michelin-starred chefs Gordon Ramsay and Nobuyuki Matsuhisa.
AFRICANMECCA REVIEWS
What are our Customers saying about our safari vacations?
We just returned from our trip to Africa. We had a group of 10 people, going to 4 different countries. It was an absolutely perfect trip, not one thing went wrong. Raza had put together the most time efficient trip for us taking into consideration every possible thing someone can. These people know what they are doing! Every single aspect of the planning was perfect. Thank you very much.

Pappu Patel & Group - Chicago, Illinois, United States

AfricanMecca Safaris assisted my wife and I on planning a wonderful three week trip to Kenya and Capetown, South Africa. They took care of all the reservations. The scheduling was wonderful, and they arranged for someone to meet us every step of the vacation to insure that we made the proper connections and had transport waiting to take us where we needed to go. My heartfelt thanks.

Jack Hart - President, Hart Financial Services - Florida, United States

AfricanMecca Safaris created a remarkable honeymoon tailored to our interests and desires. The quality of service and delivery of experience was unsurpassed. Additionally, they quickly responded to every question we had and went the extra mile to make sure we were always happy with the outcomes. I highly recommend AfricanMecca Safaris to honeymooners, families, or any traveler.

Noorin & Jason Nelson - Maryland, United States

I had a wonderful trip to Africa and I would highly recommend your company.I have been to Africa many times and I have never had such wonderful service. The guide and safari vehicle were both great and all the lodges were outstanding. We will be going to Africa again the year after next and I assure you I will be contacting you. Thanks again for arranging such a great trip.

Ronald Price, President, Ron Price Motors Group - California, United States

Jambo Raza: Where do we even begin.............. Sal and I had the most amazing experience of our lives. I can only tell you that you have accomplished your goal of sharing your love of your beautiful country with us. Thank you for making my dream trip to Africa the memory of a lifetime. I look forward to continuing our friendship and sharing photos one day (although I promise not all 3,0000...........)

Karin Parker and Sal Adornato - New Jersey, United States

Thank you for everything; we had an amazing honeymoon. Words really can't describe our experience, all we can really say was that it was the most amazing experience of our lives and we would recommend AfricanMecca to anyone. We hope to visit Africa again sometime next year! Thank you & all of your staff for an amazing & perfect honeymoon.

Rick Sagoo - London, United Kingdom