Manyeleti Kruger Safari & Tour Accommodations
Manyeleti Game Reserve borders the Kruger National Park to the eastern side within the Limpopo province of South Africa. What makes Manyeleti Game Reserve unique, however, is the exceptionally low human:land density ratios. With only two different commercially operated accommodations, a maximum of 8 safari vehicles traverse the reserve. Each vehicle therefore has the equivalent of 2937 hectares to itself. It can therefore be said that this is one of the lowest vehicle density private reserves in the greater Kruger Park region. The Kruger National Park is one of the most diverse national parks in the world. It houses a vast array of flora and fauna. There are no fences between the reserves, which means that animals are free to roam unhindered. Below is a listing of Manyeleti Kruger accommodations in South Africa. To view complete details on the accommodation, click on "Read More+" under each camp or lodge photo.
Read More +
HONEYGUIDE KHOKA MOYA CAMP
Safari Tier 2 Experience
Honeyguide Khoka Moya Camp is situated on both sides of a riverbed, and offers an authentic African experience without sacrificing luxury, safety or comfort. Simply designed and built of corrugated iron, the large colourful lounge and dining areas of the camp overlook green lawns leading to the swimming pool. The camp comprises 12 large tents furnished in a contemporary yet comfortable style. The camp welcomes children of all ages.
Read More +
HONEYGUIDE MANTOBENI CAMP
Safari Tier 2 Experience
Honeyguide Mantobeni Camp offers breathtaking wildlife experiences at the same time as pampering the senses with meticulous service and superb cuisine. The camp is designed to reflect Hemingways' Africa. The 12 Nehru-styled tents are nestled in a Tamboti grove overlooking a dry river bed. The reception areas comprise a large sitting area, indoor and outdoor areas, bar and climate controlled wine cellar. The tents are comfortably furnished with king-sized beds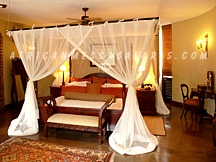 Read More +
TINTSWALO LODGE
Safari Tier 1 Experience
Tintswalo Lodge is an exclusive safari lodge under traditional grassing. The suites are authentically decorated to recall the pioneering times of the nineteenth century African explorers. The air-conditioned suites are situated along the banks of the seasonal Nwaswitsontso River. Providing supreme comfort, privacy and effortless birding, as well as the opportunity to view a large variety of big game from the privacy of your suite.
AFRICANMECCA REVIEWS
What are our Customers saying about our safari holidays?
We just returned from our trip to Africa. We had a group of 10 people, going to 4 different countries. It was an absolutely perfect trip, not one thing went wrong. Raza had put together the most time efficient trip for us taking into consideration every possible thing someone can. These people know what they are doing! Every single aspect of the planning was perfect. Thank you very much.

Pappu Patel & Group - Chicago, Illinois, United States

AfricanMecca Safaris assisted my wife and I on planning a wonderful three week trip to Kenya and Capetown, South Africa. They took care of all the reservations. The scheduling was wonderful, and they arranged for someone to meet us every step of the vacation to insure that we made the proper connections and had transport waiting to take us where we needed to go. My heartfelt thanks.

Jack Hart - President, Hart Financial Services - Florida, United States

AfricanMecca Safaris created a remarkable honeymoon tailored to our interests and desires. The quality of service and delivery of experience was unsurpassed. Additionally, they quickly responded to every question we had and went the extra mile to make sure we were always happy with the outcomes. I highly recommend AfricanMecca Safaris to honeymooners, families, or any traveler.

Noorin & Jason Nelson - Maryland, United States

I had a wonderful trip to Africa and I would highly recommend your company.I have been to Africa many times and I have never had such wonderful service. The guide and safari vehicle were both great and all the lodges were outstanding. We will be going to Africa again the year after next and I assure you I will be contacting you. Thanks again for arranging such a great trip.

Ronald Price, President, Ron Price Motors Group - California, United States

Jambo Raza: Where do we even begin.............. Sal and I had the most amazing experience of our lives. I can only tell you that you have accomplished your goal of sharing your love of your beautiful country with us. Thank you for making my dream trip to Africa the memory of a lifetime. I look forward to continuing our friendship and sharing photos one day (although I promise not all 3,0000...........)

Karin Parker and Sal Adornato - New Jersey, United States

Thank you for everything; we had an amazing honeymoon. Words really can't describe our experience, all we can really say was that it was the most amazing experience of our lives and we would recommend AfricanMecca to anyone. We hope to visit Africa again sometime next year! Thank you & all of your staff for an amazing & perfect honeymoon.

Rick Sagoo - London, United Kingdom
CONTACT AND TALK TO OUR SOUTH AFRICA TOUR EXPERTS TODAY TO START YOUR TRIP PLANNING PROCESS
Request South Africa Custom Or Tailor-Made Safari Vacation Pricing Based On Your Specific Travel Dates At Your Preferred Safari Tier Lodge Or Camp
CONTACT AN EXPERT ON SOUTH AFRICA SAFARI PRICES & TOURS