Introduction To Mala Mala Game Reserve
Mala Mala Game Reserve is the Safari Industry's blueprint to the luxury photographic safari. In existence since 1927, this massive thriving tract of land produces the most exciting wildlife experience this side of the equator. Mala Mala Game Reserve is the largest private Big Five game reserve in South Africa . Comprising 13 300 hectares, Mala Mala shares a 19 km (12 mile) unfenced border with the world-renowned Kruger National Park and lies sandwiched between the National Park and the Sabi Sand Reserve. For over four decades, Michael Rattray has remained focused on his objective to preserve and protect the land over which he is custodian. Allowing nature to move to its innate rhythm, guests experience today what the forefathers of the African Safari would have experienced at the turn of the century. This philosophy has paid off, as experienced by a veritable collection of photojournalists and film-makers who have made Mala Mala their destination of choice to capture footage of wildlife viewing that would rival any Hollywood production for thrilling and breathtaking animal encounters.
Mala Mala Game Reserve Ecological Experience
No other destination can compete with the Lowveld's pristine wilderness locations which are legally protected from human interference. The region, larger than many independent countries, is home to the largest concentrations of free roaming elephant, lion, rhino, leopard, buffalo, cheetah, and literally hundreds of other species of wild mammal. Today this area is known to have the greatest diversification of animal species on the African continent. Over two hundred different species occur in abundance whilst the ever changing bird life provides even the most experienced ornithologist with rare finds. It is here, strategically sandwiched between the Kruger National Park and the Sabi Sand Wildtuin, that the Mala Mala Game Reserve is situated. The unfenced borders between Mala Mala Game Reserve and the Kruger National Park on one side, and the Sabi Sand Wildtuin on the other allows animals to migrate unhindered to the perennial Sand River which flows north to south through Mala Mala for 20 kilometres (13 miles). This well preserved wilderness is a "honey-pot" to the most sought-after wildlife species, as well as a host of smaller creatures. Mala Mala is part of a conservation gene pool that covers 5.5 million acres of land in the heart of the South African Lowveld.
Mala Mala Game Reserve Wildlife Viewing Experience & Uniqueness
Mala Mala promises the finest game viewing on the African sub-continent and regularly provides the subject matter for a veritable collection of international and local wildlife documentaries (including National Geographic). Many of these documentaries have won international accolades amidst critical acclaim. Several publications are available, showcasing the treasures that make the property one of the most sought-after on any traveller's itinerary.

It is a near-impossible task to bring to life a Mala Mala safari through the written word, but the annual statistics published by the property serve to prove the frequency and consistency of Big 5 sightings experienced by visitors.

Why such phenomenal viewing success? Simply put, it's due to:
Size and human habitation: 33000 acres (13 500 hectares) lie undisturbed, but for two safaris which meander through the wild with no more than 6 silent observers per vehicle each day. Human densities which have a direct impact on the environment have been kept to an absolute minimum. Only guests accommodated at one of the Mala Mala camps enjoy this privately-owned game land.
Mala Mala has practiced sound environmental management policies for years, well before "responsible tourism became the contemporary catch phrase.
Photographic safaris are conducted in open 4-wheel drive vehicles, allowing for total freedom of movement and the ability to leave the road and track down Africa's unique animals including the legendary Big Five - Lion, Leopard, Rhino, Elephant and Buffalo.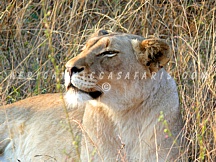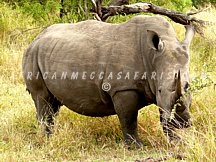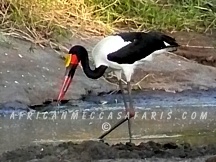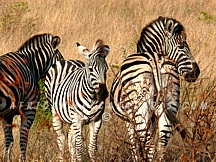 AFRICANMECCA REVIEWS
What are our Customers saying about our safari holidays?
On behalf of myself, my wife and my two adult daughters, I want to sincerely thank you and AfricanMecca Safaris for our fabulous recent safari. Everything you promised exceeded our expectations and was superb, which is saying a lot since this was our second trip, having had a wonderful Botswana Safari 10 years ago. Do not ever hesitate to use me as a reference.

Robert Schenkein - prVision Photography Studio - Colorado, United States

Chobe was delightful, less than half full. Sussi and Chuma, very nice, again only 13 people in all. All the game drives and river cruises were excellent. We had great weather. The ability to get really close is in inspiring. EVERYWHERE we went, the people were warm, helpful and charming. Thank you so much. We will be recommending your services to all.

Thomas Kelch - California, United States

Raza Visram at AfricanMecca planned the most amazing trip for my friend and I. I wanted to go to 4 countries in 15 days and he made it happen. It was an aggressive itinerary and Raza planned it so well, that the transitions were seamless. The last leg of the trip was Botswana for another Safari and we stayed at the most beautiful lodge. The excitement in seeing the animals so closely is indescribable.

Karin Alsdorf - New Jersey, United States

I had a wonderful trip to Africa and I would highly recommend your company.I have been to Africa many times and I have never had such wonderful service. The guide and safari vehicle were both great and all the lodges were outstanding. We will be going to Africa again the year after next and I assure you I will be contacting you. Thanks again for arranging such a great trip.

Ronald Price, President, Ron Price Motors Group - California, United States

Greetings to you and our most fervent thanks for a wonderful trip of Kenya, Zanzibar, South Africa & Victoria Falls. This was truly a perfect vacation. Thank you so much for all your arrangements. It was a trip filled with different kinds of adventures. We experienced and learned so much. Would highly recommend it to others who are interested in similar trips. Wishing you the very best.

Adrienne & Barrie Carter - Canada

Thank you for everything; we had an amazing honeymoon. Words really can't describe our experience, all we can really say was that it was the most amazing experience of our lives and we would recommend AfricanMecca to anyone. We hope to visit Africa again sometime next year! Thank you & all of your staff for an amazing & perfect honeymoon.

Rick Sagoo - London, United Kingdom
CONTACT AND TALK TO OUR SOUTH AFRICA TOUR EXPERTS TODAY TO START YOUR TRIP PLANNING PROCESS
Request South Africa Custom Or Tailor-Made Safari Vacation Pricing Based On Your Specific Travel Dates At Your Preferred Safari Tier Lodge Or Camp
CONTACT AN EXPERT ON SOUTH AFRICA SAFARI PRICES & TOURS